Back to top
OR&R Participates in the First Synthesis Workshop of the DEEPEND Consortium
MAY 18, 2018 — When the BP's Macondo well blew out and the spill know as Deepwater Horizon began its release of oil into the Gulf of Mexico, OR&R began the Natural Resource Damage Assessment (NRDA) to investigate the impacts of this deep-ocean oil release.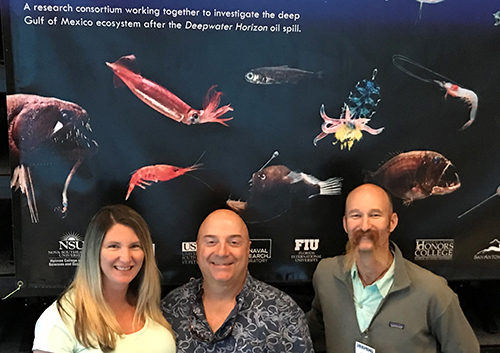 Early on, it was clear to researchers that while there was existing information on the deep, mid-water fish and invertebrates of the Gulf of Mexico, that information was sparse. To better understand marine life down in the depths, from 700 – 1500 meters below the surface, the NRDA scientists conducted a comprehensive set of cruises to collect and examine the biological communities living in the deep mid-waters of the Gulf.
Those initial research efforts were expanded by the DEEPEND (Deep Pelagic Nekton Dynamics of the Gulf of Mexico) Consortium, a collaborative effort among researchers from numerous Gulf Coast universities and funded by the Gulf of Mexico Research Initiative (GOMRI)
ORR's Dr. Daniel Hahn met the group in Dania Beach, Florida from May 14-15 to discuss a robust agenda that covered everything from the volume and identity of animals collected to the linkages between deep sea communities and the upper levels of the ocean. Additionally, attendees examined importance of these linkages from microbes to marine mammals. Between the previous NRDA work and the current DEEPEND research, nearly 1,000 different fish species were collected in the deep pelagic waters of the Gulf of Mexico. 180 of these species are new to the Gulf of Mexico, and about 20 are identified as entirely new species discovered. Over 200 species of crustaceans and cephalopods were collected, with approximately 10 entirely new species discovered. Using both nets and acoustics (essentially sophisticated fish finders that use reflected sound waves to examine what is in the water column) the group findings showed that the daily movements of fauna from the deep waters during the day, to shallower waters at night (known as diel vertical migration, and relating to a 24 hour period), present an enormously important link between the water areas. They observed that huge amounts of energy and nutrients are transferred and cycled between the areas.
For further information, contact Daniel.Hahn@noaa.gov.