Back to top
OR&R Participates in Pacific Partnership 2019 in Vietnam
MAY 20, 2019 —On May 13 and 14 OR&R participated in a coastal protection workshop conducted in coastal city of Tuy Hoa, Vietnam, as part of Pacific Partnership 2019.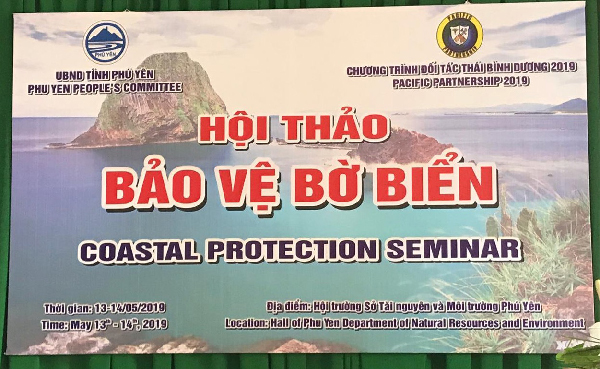 In collaboration with U.S. Coast Guard (USCG) Sector Guam, the OR&R Emergency Response Division shared information on scientific aspects of oil spill response and preparedness in the U.S. with over 50 delegates from Vietnamese environmental and response agencies in the Pu Yen Province. Vietnamese agencies represented included the Department of Natural Resources and the Environment, Department of Agriculture and Rural Development, and Provincial Border Guard Command. Topics presented by NOAA included management of seafood safety after oil spills and mapping tools useful for oil spill response and planning.  NOAA Weather Service Pacific Region shared information on storm forecasting in the U.S. during a related workshop held in Tuy Hoa the previous week. OR&R's participation in the coastal protection workshop was sponsored and funded by USCG Sector Guam. 
Pacific Partnership is an annual deployment of forces from the Pacific Fleet of the U.S. Navy, in cooperation with allied and partner nations, to help improve disaster response preparedness while enhancing partnerships with participating nations throughout the Indo-Asia-Pacific region. This annual maritime operation began in response to the 2004 Indian Ocean earthquake and tsunami that devastated parts of Southeast Asia. The mission has evolved over the years from primarily a direct care mission to an operation focused on enhancing partnerships through host nation subject matter experts and civil-military exchanges. The Pacific Partnership program for 2019 involves activities in several countries, including Vietnam. Held in conjunction with the 21st anniversary of the normalization of diplomatic relations between the United States and Vietnam, Pacific Partnership underscores the deepening relationship between the United States and Vietnam. A stated goal of Pacific Partnership this year is to capitalize on the Women Peace and Security program, an international initiative designed not only to empower women, but to demonstrate that they are included in the planning and implementation of disaster preparedness and relief efforts of their respective countries. Women were well-represented among the agencies participating in the coastal protection workshop in Tuy Hoa. 
For additional information, contact Ruth.Yender@noaa.gov.
more images