Back to top
OR&R Participates in Raritan River Conference
JUNE 15, 2018 — Numerous Superfund sites are situated within the Raritan River watershed and pose a threat to NOAA trustee resources.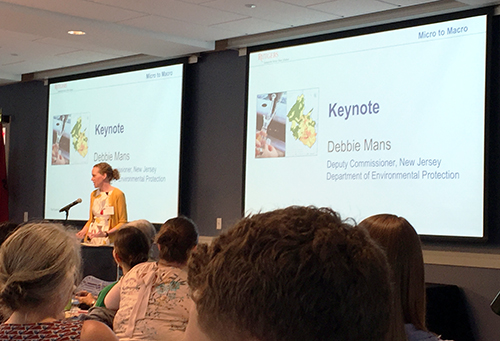 NOAA currently works to protect and restore trust resources impacted by legacy contamination associated with the American Cyanamid, Cornell Dubilier, Horseshoe Road and Raritan Bay Slag Superfund Sites. The 10th annual Sustainable Raritan River Conference was held on June 8, at Rutgers University in New Jersey. This meeting brought together various partners and stakeholders to spend a day focusing on emerging and legacy contaminants impacting the Raritan and on watershed planning to restore the Raritan system to a fishable and swimmable condition.   Lightning talks, panel discussions and world cafe sessions explored the conference theme "Micro to Macro: The Future of the Raritan".  The keynote address was given by Debbie Mans, the current New Jersey Department of Environmental Protection Deputy Commissioner and former New York/ New Jersey Baykeeper Executive Director.  She presented New Jersey Governor Murphy's environmental agenda. 
See also:
A Legacy of Industry and Toxins in Northern New Jersey: Striped Bass and Blue Crab
Restoring New York-New Jersey Harbor
For further information, contact Lisa.Rosman@noaa.gov.