Back to top
OR&R Presents at 2018 Industry Technical Advisory Committee Meeting
NOVEMBER 9, 2018 — OR&R's senior scientist, Dr. Lisa DiPinto; the chief of OR&R's Emergency Response Division, Scott Lundgren; and OR&R biologist Gary Shigenaka participated in the 2018 Industry Technical Advisory Committee (ITAC) Annual Meeting to share information on current and emerging scientific and technical issues influencing spill response.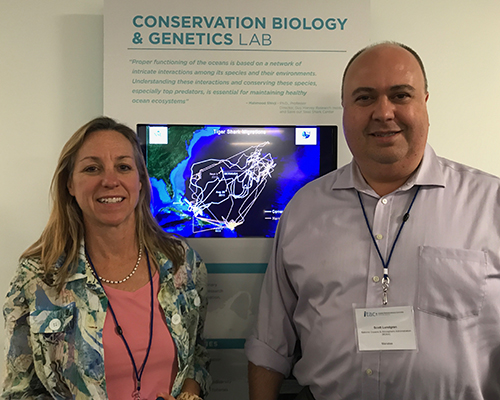 The conference was held on November 5-7, at NOVA Southeastern University's Oceanographic Center in Port Everglades, Florida.
As described on the ITAC 2018 website, the Industry Technical Advisory Committee (ITAC) is non-commercial and is driven by Oil Spill Response Limited as part of its outreach program to facilitate the technical debate for more effective oil spill preparedness and response. The ITAC meeting is held annually in different locations, alternately in Europe or North America. Because of the Florida venue, the ITAC planners included several issues related to tropical spill preparedness and response.
NOAA presented two topics at the forum. Gary Shigenaka presented to the group on marine mammal and turtle spill studies in a talk titled, "Recent Findings from Protected Vertebrate Studies" and Scott Lundgren presented on reasons for and efforts to enhance OR&R's emergency response preparedness and response relationship with researchers, given recent large investments in spill research. He announced plans for a January 2019 Leveraging Science and Academic Engagement workshop to be sponsored by NOAA, and coordinated by the NOAA-University of New Hampshire Coastal Response Research Center.
Participants had the opportunity to hear from many in the industry, research, and government community during the course of the three day agenda. NOVA Southeastern researchers provided lab tours focusing on oil toxicity to coral studies and new deep sea biology discoveries. Oil Spill Response Limited staff provided a tour of their equipment and services at their Fort Lauderdale base.
For additional information, contact Scott.Lundgren@noaa.gov.