Back to top
OR&R Responding to Oil Platform Fire, Pipeline Discharge in Louisiana
OCT. 18, 2017 — The Office of Response and Restoration is currently responding to two separate oil-related incidents in Louisiana.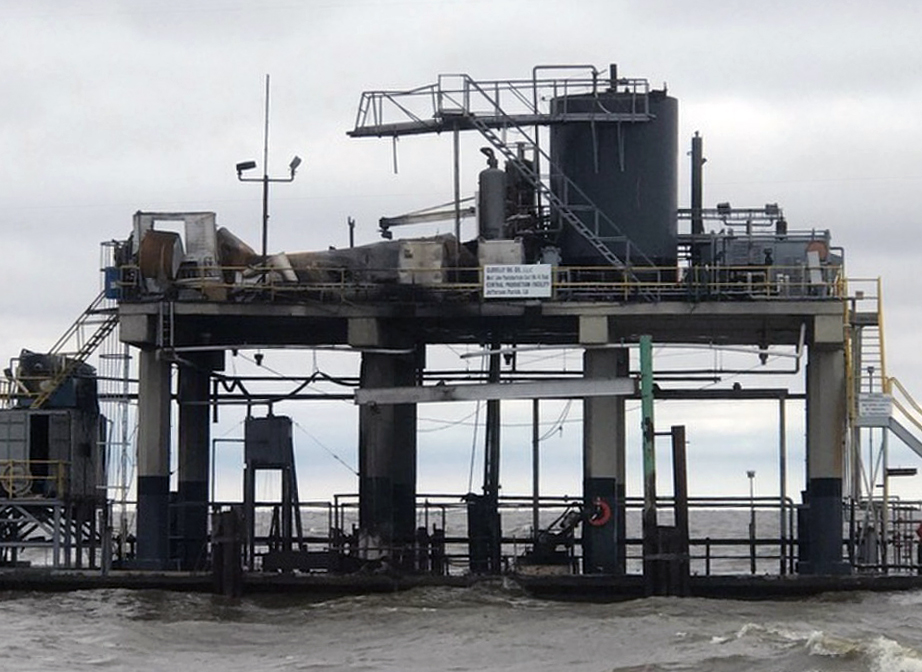 Oil Platform Fire
According to a press release from the U.S. Coast Guard, an oil platform exploded and caught fire in southwestern Lake Pontchartrain on Sunday night. It was estimated that about 500 barrels of South Louisiana crude oil were in tanks on the platform, owned by Clovelly Oil Co., at the time of the explosion, approximately 8 p.m. on Oct. 15. At this time it is unknown how much was burned up in the fire.
The Coast Guard has requested a worst case trajectory for 500 barrels, though a Coast Guard overflight on Oct. 16 detected no sheen in the water, and no oil on the shoreline was visible from the air. The New Orleans/ Baton Rouge National Weather Service is also running air plume modelling.
The fire has since been extinguished and during an overflight on Oct. 16 there were no visible signs of pollution. Tarry residue balls of approximately 0.6 miles in length and 4 feet in width were collected from the shoreline of Jefferson Parish.
Eight platform workers were reportedly aboard when the platform exploded. Seven of the workers were taken to local hospitals, while one person is still missing. The Coast Guard is continuing to search for the missing man both by air and by boat.
The cause of the explosion is still unknown.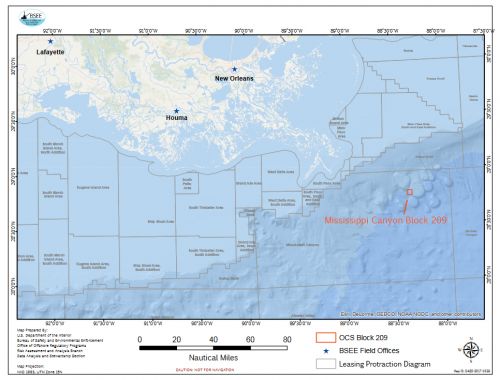 Pipeline Discharge
Last week in a separate incident, a pipeline discharge reportedly occurred 40 miles southeast of Venice, Louisiana.
The National Response Center reported the discharge at 1:30 p.m. on Friday, Oct. 13, according to a press release from the U.S. Coast Guard.  
The oil was released in the Gulf of Mexico from infrastructure fully submerged  in water at a depth of 4,463 feet. LLOG Exploration, which operates the pipeline, identified the location of the release as the Mississippi Canyon Block 209, Well No. 1 and estimated that between 7,950 to 9,350 barrels (or 333,900 and 392,700 gallons) were released.
In a press release earlier today, the Coast Guard reported that a panel investigation was initiated on Monday by the Bureau of Safety and Environmental Enforcement (BSEE) Gulf of Mexico Region Director Lars Herbst.
A fracture was reportedly observed in the jumper pipe leading from the well. LLOG reported to BSEE that they isolated the pipeline leak and stopped the it on Thursday morning. The flow through the fracture has since ceased.
A sheen was observed and reported through the National Response Center. Monitoring of the residual sheen continues. No shoreline impacts have been reported
BSEE is coordinating with the U.S. Coast Guard on the response. The Office of Response and Restoration is continuing to provide trajectory modeling and mapping support.
The U.S. Coast Guard contributed to this article.