Back to top
OR&R's Assessment and Restoration Division Highlights Restoration Efforts at New England Waste Sites
NOVEMBER 30, 2018 — OR&R's Ken Finkelstein, Jim Turek of the National Marine Fisheries Service Restoration Center, and Grant Blumberg of NOAA's General Counsel participated in a public meeting on November 19 in Stratford, Connecticut.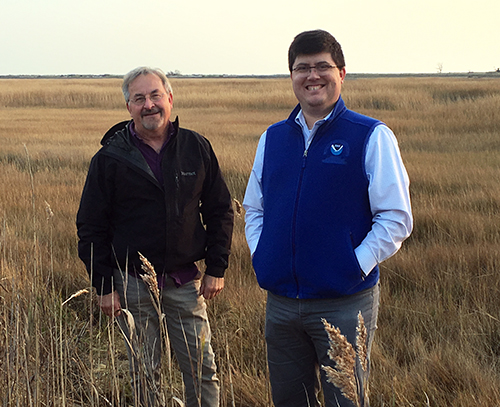 At the meeting, the Draft Restoration Plan and Environmental Assessment  of the Lordship Point Gun Club site, a former skeet shooting range, and Raymark Industries site, a former car parts manufacturer in Connecticut, was presented.
At the New Bedford Harbor Superfund site, Jim Turek and Ken Finkelstein met with Dave Dickerson, EPA Remedial Project Manager, to tour and discuss ways to remove the PCB contamination in the harbor that borders Phragmites wetlands (Phragmites is also known as common reed, a non-native, perennial, aggressive wetland grass) and mitigate and restore with native vegetation. New Bedford Harbor is a major commercial fishing port and industrial center in southeastern Massachusetts on Buzzards Bay. From the 1940s to the 1970s, manufacturers discharged wastes containing PCBs and toxic metals into New Bedford Harbor. This resulted in high levels of contamination throughout the waters, sediments, plants, and wildlife of the Harbor and parts of Buzzards Bay.
For further information, contact Ken.Finkelstein@noaa.gov.