Back to top
OR&R's Disaster Preparedness Program Develops Web-based "After Action" Report for Hurricane Season 2018
NOVEMBER 30, 2018 — Finally, November 30 marks the end of Hurricane Season 2018. Hurricane Season 2018 was extremely busy, with storms like Hurricane Florence in North Carolina, and Hurricane Michael in the Florida panhandle that left a path of destruction in their wake.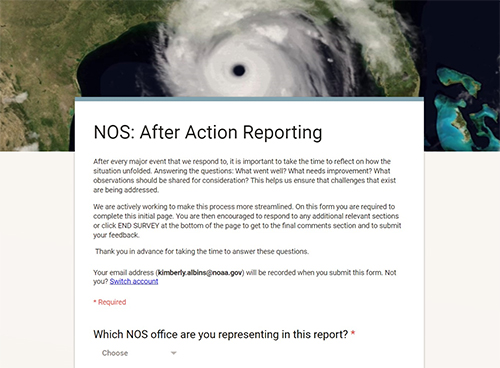 The development of after action reports are crucial for any organization when it comes to identifying and disseminating experiences gained over time. Specifically, for those in the field of emergency preparedness, the lessons-learned learned approach provides us with the opportunity to improve. OR&R's newly established Disaster Preparedness Program (DPP) has a mission to prepare the National Ocean Service and partners to respond to and recover from pollution events and natural disasters.
Kimberly Albins, with the Disaster Preparedness Program worked closely with co-workers to create a web based after-action report, or AAR, that can be disseminated and completed entirely online. "This form is still a work in progress, but I hope it makes completing and compiling after-action reports much easier for everyone" says Kim.
Creating a structured after action report allows us to analyze how the lessons-learned from responses to real-incidents can be used to improve performance, build capacity and maximize knowledge management.
Alyson Finn, also with the Disaster Preparedness Program states, "Developing a targeted and strategic after action approach is critical for organizations such as NOAA. During a response there are a lot of moving parts which inadvertently exposes GAPS and possible areas of improvement. Conducting an after-action report gives us a formalized way in which accomplish this."
OR&R's DPP will aim to have the 2018 Atlantic Hurricanes After Action Report compiled for final review and disseminated in early December.
For further information, contact Alyson.Finn@noaa.gov.