Back to top
OR&R Staff Spotlight: Alyson Finn
MARCH 1, 2019 — Alyson Finn, a Genwest contractor, works as an Emergency Planning Specialist for OR&R's Disaster Preparedness Program (DPP), based out of Silver Spring, Maryland.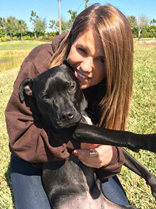 New to NOAA, Aly started with the DPP back in November 2018. As an Emergency Planning Specialist, Aly is responsible for supporting the DPP, OR&R and National Ocean Service in the development of preparedness plans, including Continuity of Operations Plans (COOP), improvement actions, IMT support, outreach and training efforts, and a variety of other DPP initiatives.
Before joining NOAA, Alyson worked for the American Red Cross, where she was a Senior Disaster Program Manager responsible for the implementation of disaster preparedness, response, and recovery programs within her region. Aly spent the past 5 years with the American Red Cross in both Florida and Maine working in disaster operations, and has deployed to several disaster relief operations where she served in various leadership roles. In the aftermath of Hurricane Irma, Aly served as the Deputy Director and Shelter Coordinator for over 75 evacuation shelters, comprising over 120,000 clients.
New to Maryland, Alyson grew up in New England. She loves spending time outdoors and playing with her dog, Lady. Alyson holds a Bachelor of Liberal Arts degree in Professional Communications from Plymouth State University as well as a Master's of Science degree in Emergency Planning and Public Administration from Lynn University in Boca Raton, Florida.
more images