Back to top
Pacific Northwest ERMA
Pacific Northwest ERMA is an online mapping tool that allows stakeholders and communities to visualize ecological, land use, and infrastructure data in one centralized location. With the increase in oil transported by rail in the region, along with existing marine traffic, emergency planners are relying upon ERMA to help prepare and respond to environmental pollution incidents in Washington and Oregon.
Emergency Response
ERMA incorporates the latest Geographic Response Plans for Washington and Oregon. These data cover the coastal regions as well as inland areas that could be affected by oil-by-rail incidents. Pacific Northwest ERMA is also used for emergency preparedness and response training activities in the region.
Safeguarding and Restoring Habitat
Pacific Northwest ERMA grew out of the ERMA site initially developed for Washington's Puget Sound, in support of NOAA's Climate Assessment and Proactive Response Initiative (CAPRI). CAPRI links contaminant sources, climate scenarios, and vulnerability assessments to help mitigate and adapt to climate change-related contaminant impacts. This information can be used to set management priorities based on vulnerabilities to predicted climate change conditions, as well as to guide adaptive habitat restoration.
ERMA also supports Natural Resource Damage Assessments (NRDA) cases in coastal areas affected by industrial pollution, by providing a common platform to share and display data among federal, state, tribal, and local partners. Pacific Northwest ERMA has provided essential environmental quality and monitoring data for injury assessment and restoration planning in the Duwamish River, Lower Willamette River, and Puget Sound.
Partners
NOAA worked with the University of the Washington Tacoma's Puget Sound Institute's Encyclopedia of Puget Sound initiative to populate Pacific Northwest ERMA with shoreline classification information. ERMA was developed in collaboration with the University of New Hampshire's Coastal Response Research Center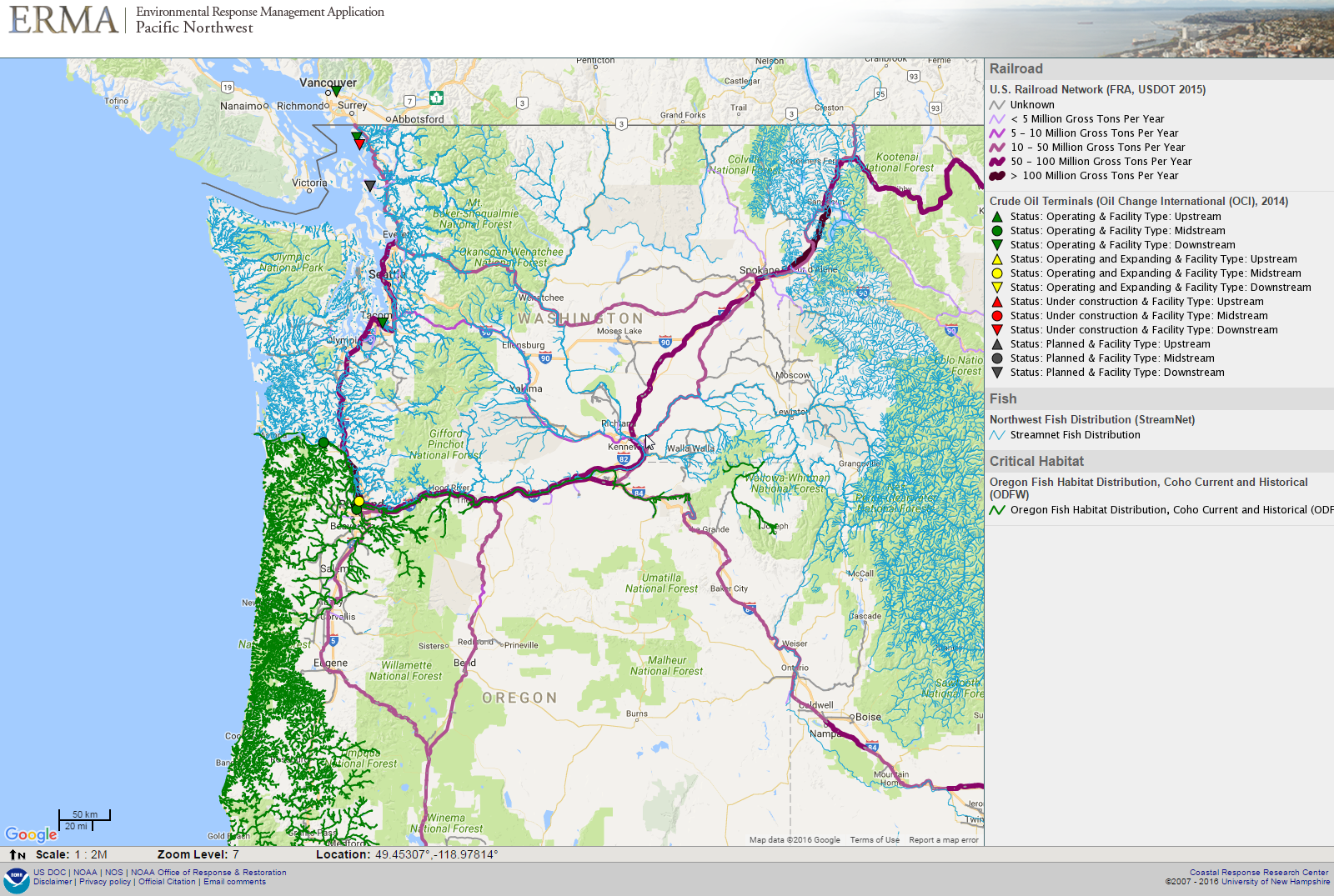 With the increase in oil transported by rail in the region ERMA allows planners and responders to view locations of railroads and critical fish habitats, both are visible in this ERMA screenshot.