Back to top
Partners Gather in Gloucester to Update the Gulf of Maine Marine Debris Action Plan
MAY 13, 2019 — On April 30 and May 1, partners representing organizations in Maine, New Hampshire, Massachusetts, New Brunswick, and Nova Scotia gathered at the Greater Atlantic Regional Fisheries Office in Gloucester, Massachusetts to finalize the Gulf of Maine Marine Debris Action Plan, which aims to coordinate efforts to prevent, study, and remove marine debris.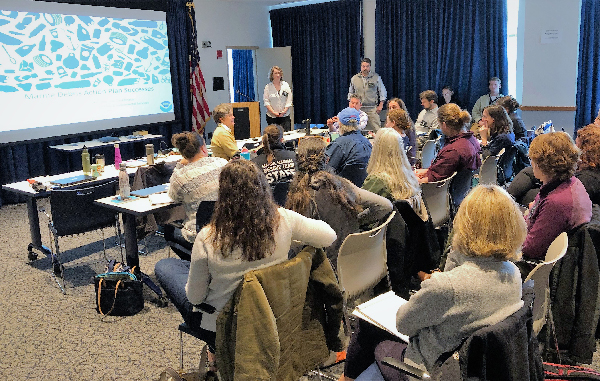 Ideas for the plan were first established in a 2015 meeting, when partners began to compile goals and objectives. In 2017, actions were drafted within four Working Groups: Consumer Debris, Derelict Fishing Gear, Microplastics, and Wildlife and Habitat Impacts. Last week, these actions were updated and partners representing non-profit organizations, state and federal governments, academic institutions, and fishing industries came together to inspire new energy and discover ways we can better work together toward our common goals.
The workshop featured a presentation from the Marine Debris Program's Great Lakes Regional Coordinator, Sarah Lowe, who is working to wrap up her region's action plan later this year, as well as five-minute lightning talks from participating partners.
Through the use of sustainable items like reusable chalkboard name tags, metal utensils, and digital note-taking spreadsheets, workshop attendees helped divert over 700 items from landfill over the two days.
Participants are eager to move forward with publishing the plan and accomplishing the outlined actions in the coming years.
For more information, please contact Demi.Fox@noaa.gov.
more images