Back to top
Portland Harbor Trustees Secure Approximately $2.3M in Bankruptcy Settlement Funds from Mission Insurance Company
SEPTEMBER 29, 2017--In response to a complex bankruptcy settlement process spanning decades, NOAA developed a claim for ecological natural resource damages at the Portland Harbor Superfund Site.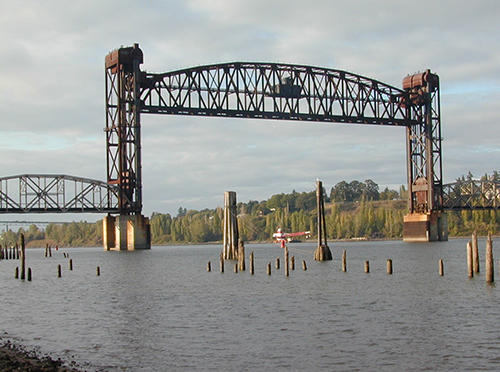 The NOAA case team and its Department of Interior (DOI) counterparts were informed by the U.S. Department of Justice of the bankruptcy proceeding in late 2015. The proceeding stemmed from the unwinding of assets from the Mission Insurance Company, which provided environmental insurance policies to the Linnton Plywood Association. From 1954 to 2001, Linnton owned and operated a plywood manufacturing facility on the west bank of the lower Willamette River in Portland, OR. Activities at the site resulted in releases of hazardous substances to the river.
After being notified of the proceeding by the Department of Justice (DOJ), the NOAA case team promptly developed a natural resource damages claim for ecological losses. The case team used a geo-spatial habitat equivalency analysis to scale injuries from approximately one dozen substances of concern in surface sediments, including poly-chlorinated biphenyls (PCBs), pesticides (e.g., DDT), and poly-aromatic hydrocarbons (PAHs). The claim used a "joint and several approach" to liability as set forth in the Comprehensive Environmental Response, Compensation and Liability Act, or CERCLA.
After a period of months, NOAA and DOI were notified by the Department of Justice that a natural resource damages settlement of approximately $2.3M had been achieved. These funds were recently transferred to DOI's Natural Resources Damage Assessment and Restoration account and are now available to the Portland Harbor Natural Resource Trustee Council to conduct assessment and restoration activities and to partially offset unreimbursed damage assessment costs incurred over a period of years. This is the second major bankruptcy settlement for natural resource damages at Portland Harbor. In 2010, the Portland Harbor Natural Resource Trustees received approximately $3.2M in settlement funds from the Smurfit-Stone Container Corporation.
For further information, contact Robert.Neely@noaa.gov.
For more details on this site, see:
Portland Harbor
Portland Harbor Superfund Site Restoration Plan Announced