Back to top
Science During Crisis: OR&R Participates in Advance Briefing and Rollout Event
MARCH 22, 2019 — OR&R Emergency Response Division Chief Scott Lundgren and Senior Scientist Lisa DiPinto participated in events on March 18 and 19 relating to a new American Academies of Arts and Science's publication on Science During Crisis: Best Practices, Research Needs, and Policy Priorities, receiving an advance briefing with other NOAA line office representatives and attending an event rollout with other department and agency representatives and interested parties.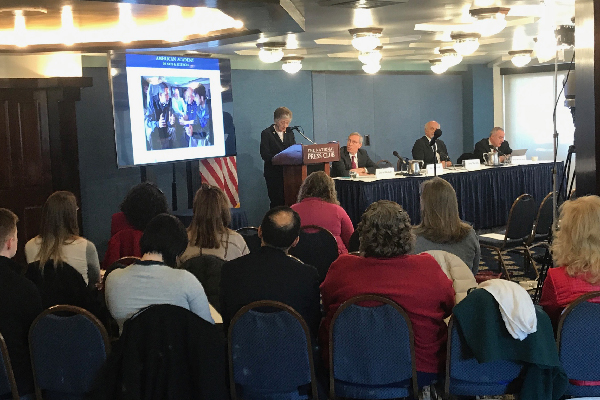 This concise report identifies what is different and important about science during a crisis and provides a set of best practices, research needs, and policy recommendations as part of its call to action.
Because OR&R provides operational science coordination as part of our Scientific Support Coordinator Role during coastal oil and chemical spills as specified in the National Contingency Plan, our emergency representatives have been actively engaged in multiple efforts to enhance science connectivity and operational interface during emergency and crisis response beyond the well-established role in spill response. OR&R representatives have shared our experience and approach, and have sought to further enhance the application of science across response of all types. OR&R has participated in several related events and initiatives:
The American Academy of Arts and Science workshop that supported the development of the Science during Crisis report.
A Subcommittee on Disaster Reduction chartered effort on National Preparedness Science and Technology specifically in a post-incident group.
Contributions to the National Incident Management System Science and Technology Advisor identified as an optional command staff position in the 2017 National Incident Management System national doctrine.  This role is an all-hazards analogue to the 40-year Scientific Support Coordinator used in oil and hazardous substance response.  
A forthcoming OR&R sponsored Leveraging Science and Academic Engagement workshop to further enhance the OR&R Scientific Support Coordinator engagement with scientists and researchers outside the usual spill response domain; this is a successor effort seeking to employ existing resources to address issues contemplated in the Science Partnerships Enabling Rapid Response initiative.
Involvement in multiple working groups of the Gulf of Mexico Research Initiative Legacy and Synthesis effort.
Publications in Coast Guard Proceedings to advance awareness of this topic with the U.S. Coast Guard, the primary client for OR&R's scientific support.  
For further information, contact Scott.Lundgren@noaa.gov.