Back to top
Science of Oil Spills Training in Mobile, Alabama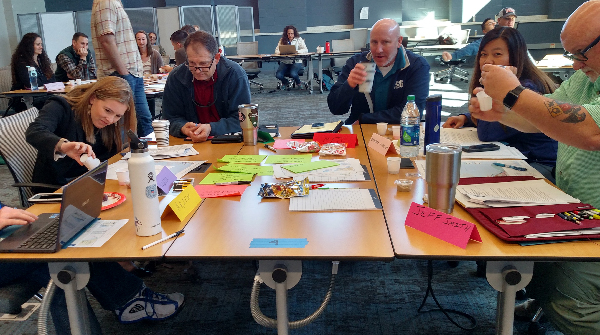 Nearly 40 students representing state and federal agencies as well as industry partners participated in the class.  With the co-occurence of the Regional Response Team Region 6 & 7 meeting and an active response operation in Houston, this class was a success due to the extraordinary team effort from OR&R's Disaster Preparedness Program, Emergency Response Division, as well as Research Planning Inc. instructors. Students learned about the varied chemical properties of different oil types, transport of oil, impacts of oil to habitats and wildlife, the environmental trade-offs to consider when responding to oil spills, and many other things during this five-day class.
For the first time, the class met at the Dauphin Island Townhall for the lecture portion of the field trip. During this time, the class was addressed by the Mayor of Dauphin Island. He shared his experience as mayor during the Deepwater Horizon oil spill and the recovery that has occurred since the oil spill. The class then headed out to the public beach area to discuss oceanography and trajectories of oil, the ecological resources present, and considerations to make in order to respond to an oil spill and protect sensitive habitats.
Class attendees included responders from the U.S. Coast Guard from Sectors Hampton Roads, Jacksonville, Miami, Corpus Christi, Houston-Galveston, Morgan City, Houma, Lower Mississippi, Mobile, New Orleans, Ohio Valley, and the Pacific Strike Team.  Other federal agencies represented by students included the Bureau of Ocean and Energy Management (BOEM), Bureau of Safety and Environmental Enforcement (BSEE), the Department of Interior's Department of Reclamation and NOAA (NOS, NMFS, and NESDIS). The Texas General Land Office, BP, and Chevron Pipe Line Company also sent students.  
The next SOS class will be held in Seattle, Washington the week of June 3, 2019. The application for this class is open through Friday, April 12.  
We are also excited to announce the Great Lakes SOS class that will be held right outside of Cleveland, in Independence, Ohio the week of July 22, 2019 at the Educational Service Center of Northeast Ohio.  The application for this class will be open through May 24.
For more information, contact Brandi.Todd@noaa.gov or Kimberly.Albins@noaa.gov.
more images