Back to top
Settlement at St. Louis River Interlake/Duluth Tar Superfund Site
DEC. 1, 2017 — On November 16, the U.S. District Court – District of Minnesota approved the proposed $8.2 million settlement to restore injuries to natural resources at the St. Louis River Interlake/Duluth Tar (SLRIDT) Superfund Site in Duluth, Minnesota.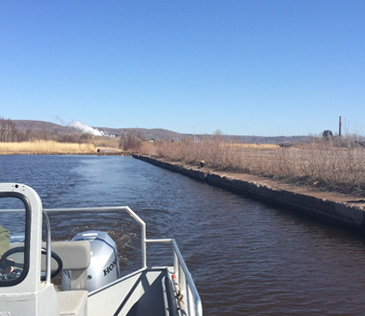 The settlement includes approximately $6.5 million for the following restoration projects:
Kingsbury Bay: Enhance and restore a 70-acre shallow, sheltered embayment habitat that will add recreational access areas for fishing and a boat launch, improve habitat and reduce invasive vegetation
Kingsbury Creek watershed: Reduce sediment deposition, improve water quality and sustain the shallow sheltered embayment habitat of the restored Kingsbury Bay
Wild rice restoration: Enhance wild rice stands within the estuary. Efforts typically include removing invasive vegetation and establishing a seed bank to provide a long-term seed source
Cultural education opportunities: Develop informational displays adjacent to wild rice restoration locations to communicate the importance of wild rice to the health of the St. Louis River estuary and the cultural traditions of local Native Americans
The design, implementation, and monitoring of the Kingsbury Bay project will be coordinated with the St. Louis River Area of Concern (AOC) in Duluth, MN. An AOC is a geographic area within the Great Lakes Basin that shows severe environmental degradation as identified by the United States Environmental Protection Agency and Environment Canada under the Great Lakes Water Quality Agreement. The St. Louis River AOC is jointly managed by the State of Minnesota and the State of Wisconsin.
The remaining settlement balance will reimburse the natural resource trustees for the costs to quantify natural resource damages and identify appropriate restoration projects.
NOAA and co-trustees including the U.S. Fish and Wildlife Service, Minnesota Department of Natural Resources, Minnesota Pollution Control Agency, Wisconsin Department of Natural Resources, Fond du Lac Bands of Lake Superior Chippewa, and 1854 Treaty Authority representing Boise Forte and Grand Portage Bands of Lake Superior Chippewa, will begin implementing the restoration projects in 2018.
For more information, contact Annie.Gibbs@noaa.gov.