Back to top
Shoreline Cleanup and Assessment Technique (SCAT) Training in St. Louis, Missouri
JUNE 29, 2018 — OR&R's Emergency Response Division, in collaboration with the U.S. Coast Guard (USCG) Sector Upper Mississippi River, the U.S. Environmental Protection Agency (USEPA), and the U.S. Fish & Wildlife, recently conducted a three-day Shoreline Cleanup and Assessment Technique (SCAT) training course in St. Louis, Missouri on May 15-17.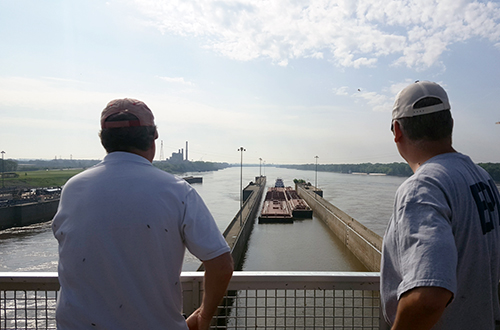 When spilled oil impacts shoreline habitats, trained responders systematically survey affected areas to determine the appropriate response methods to use in the spill response. This system is known as SCAT. The SCAT system grew out of the response to the 1989 Exxon Valdez oil spill and has been used extensively in oil spill responses ever since.
During a spill response, decisions about which shoreline cleanup methods to use in affected areas must be based on actual conditions, which are documented from field observations of shoreline habitats, type and degree of shoreline oiling, and spill-specific physical processes.
SCAT teams systematically survey affected shorelines to generate the information needed to:
document the extent and degree of shoreline oiling;
recommend cleanup methods;
evaluate the effectiveness of cleanup methods; and
develop cleanup endpoints and guidelines to determine when cleanup activities should be terminated.
The class of 32 students was comprised of individuals from USCG Sectors St. Louis, Ohio Valley, and Lower Mississippi, the USCG's Gulf Strike Team, the US EPA from Region 5 and 7, and the States of Illinois, Missouri, and Kansas. Course instructors included NOAA SSC Adam Davis, and David E. Mosby from the USFish and Wildlife Service.
The locations for the training were at the Great Rivers Museum at the Mel Price Lock and Dam and the Audubon Center at Riverlands. In addition to the classroom lectures and exercises, the instructors and students conducted three field trips to nearby rivers, streams and lakes so that the students could experience the wide diversity of inland habitats and resources and get hands-on shoreline assessment training.
For additional information, contact Adam.Davis@noaa.gov.