Back to top
Texas Barge Fire Extinguished, OR&R Responding Due to Potential Crude Oil Release
OCT. 20, 2017 — The Office of Response and Restoration, in collaboration with the U.S. Coast Guard, is currently responding to an articulated tug-barge (ATB) that caught fire this morning 3 miles from Port Aransas, Texas. The vessel was carrying crude oil cargo of an unknown type.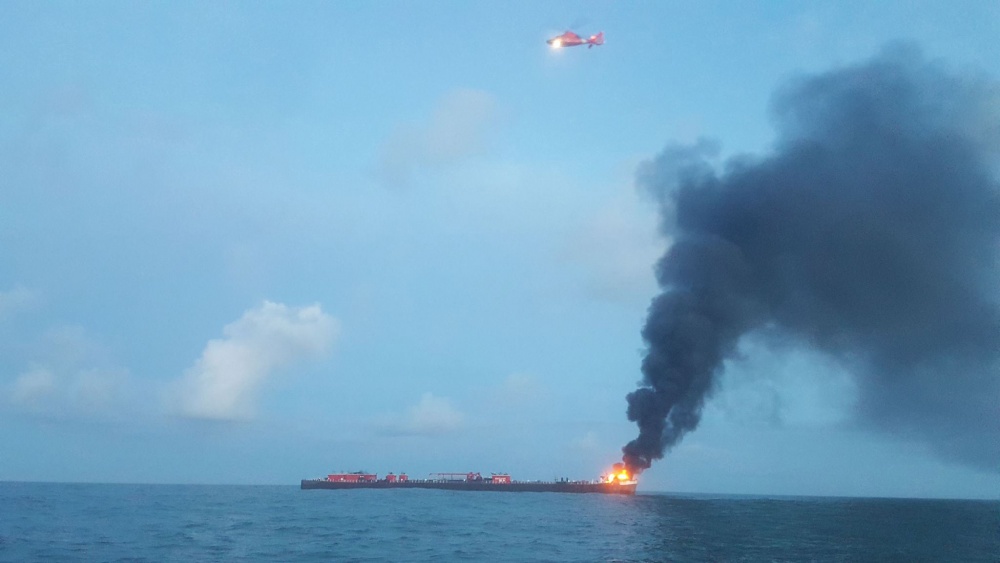 According to a press release from the Coast Guard, watchstanders received a mayday call from the captain of the tugboat, Buster Bouchard, at 4:35 a.m. reporting that the barge attached to the vessel had caught fire and two crewmembers were missing.
"In this situation, safety is paramount," said Capt. Jason Smith in the press release, the Sector/Air Station Corpus Christi acting sector commander. "Our first objective is to find the missing crew members, and our immediate second objective is pollution response and ensuring navigational safety in the affected area."
The fire has been extinguished though it is unknown how much of the crude oil cargo has been discharged. The barge was carrying 133,000 barrels (5,586,000 gallons) at the time of the fire.
OR&R is continuing to model the possible trajectory and a pollution boom is being staged to contain any discharged oil. There are initial reports of some oil in the water, but there is no estimate of the amount. As the amount consumed by the fire is still unknown, the uncertainty surrounding numbers will remain high.