Back to top
Science of Chemical Releases (SOCR) Classes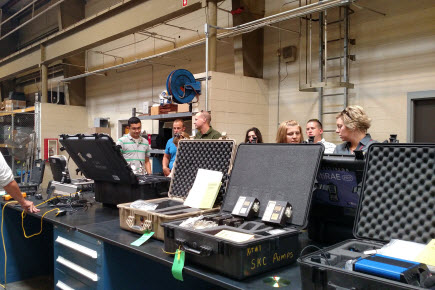 Science of Chemical Releases (SOCR) classes are designed to help spill responders and planners increase their understanding of chemical spill (release) science when preparing for and analyzing chemical spills, and making risk-based decisions to protect public health, safety, and the environment. SOCR classes follow a similar framework and level of content as NOAA OR&R's Science of Oil Spills (SOS) classes, but are centered on chemical releases rather than oil. SOCR classes are designed to offer a broad, science-based approach to understanding the framework for chemical release response for the purpose of:
increasing awareness and preparedness, and
reducing uncertainty and risk associated with this type of incident.
The classes are primarily intended for new and mid-level spill responders, planners, and stakeholders from government and public agencies. Upon completion of the class, students will be able to demonstrate increased awareness and preparedness by employing science-based decision-making in planning for and responding to chemical incidents.
SOCR classes are held once a year, usually at the NOAA Disaster Response Center in Mobile, Alabama or NOAA's Western Regional Center in Seattle, Washington. The class usually runs for 3-1/2 days. The next SOCR class will be held as follows:
No SOCR classes are scheduled at this time. As soon as the schedule is set for fiscal year 2020, the class date and location will be provided here and on the OR&R social media channels listed below, under "Stay Updated."
There is no tuition for SOCR classes; however, attendees are responsible for their own costs (travel, lodging, food, etc.) and for ensuring that they have all necessary materials and supplies.
Online Application: The online application form will be available during the application period for each scheduled SOS class.
If you experience any problems with the submission of your application, please send us an email.
 
Questions: Contact us with questions, comments, or suggestions about SOCR classes.
Stay Updated: If you'd like to receive updates about our activities and events, including future SOS classes, you can do that in these ways:
Go back to the Workshops page.