Back to top
Urban Waters Team Wins "People's Choice" Public Service Award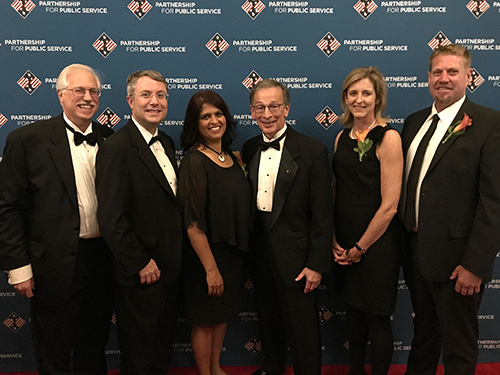 The EPA describes the Urban Waters Federal Partnership as a program that "reconnects urban communities, particularly those that are overburdened or economically distressed, with their waterways by improving coordination among federal agencies and collaborating with community-led revitalization efforts to improve our Nation's water systems and promote their economic, environmental and social benefits." There are over 250 locations across the country, and the partnership has improved more than 22,000 acres of land.
NOAA's Office of Response and Restoration (OR&R) plays a critical part in Urban Waters Federal Partnership team by providing scientific expertise that helps partners achieve improved conditions along waterways in the Northeast. Simeon Hahn, one such member and NOAA OR&R environmental toxicologist, is focused on improvements in the Philadelphia area as well as New Jersey and Delaware. He has also focused on revitalization efforts along the Anacostia River in Washington, D.C., the Petapsco River in Baltimore, and the Brandywine River in Wilmington, Delaware. The work restores degraded waterfronts to revitalize economically depressed areas along the river and improve habitats.
Simeon, who has been a member of the interagency team since the early days of the Urban Waters journey, was described by Surabhi Shah as one whose leadership was essential, especially in launching the Greater Philadelphia Area - Delaware River Watershed. "Simeon and Dave Westerholm have helped communities, federal agencies, and all our other partners better understand the tremendous range of expertise and programs that NOAA brings to the table."
OR&R Director Dave Westerholm calls the Urban Waters Program a model that demonstrates what can be done when agencies work together with local communities. "Simeon Hahn has been a great example of this collaboration for NOAA and it is appropriate that his work, along with our other partners, has been recognized with this Public Service Award." 
The non-profit, non-partisan Partnership for Public Service announced the award on September 27, 2017, at its annual gala.
Congratulations to Surabhi Shah and her team!