Back to top
Vision Plan for Newtown Creek Superfund Site
MAY 11, 2018 — The Federal Trustees for natural resources met with Riverkeeper and the Newtown Creek Alliance on May 7 to learn more about the 1,000 acres of restoration opportunities detailed in the community groups' 2018 Vision Plan for the future of the Newtown Creek Superfund Site.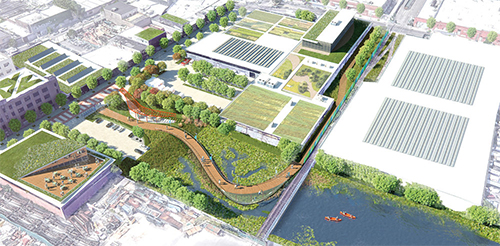 NOAA and our co-trustees are conducting a natural resource damage assessment of the site which is located on the border of the boroughs of Queens and Brooklyn in New York City and is a tributary to the East River, a tidal strait connecting Upper New York Bay to Long Island Sound. The area provides habitat for numerous species of fish and waterfowl as well as other water-dependent animals. Over 150 years of industrial use have resulted in substantial contamination and impairment of habitat related to releases of hazardous substances and oil. Fish and crab consumption advisories are in place, including a ban on eating fish and crabs by children and women of childbearing age and other recreational opportunities have also been negatively affected. The Trustees' assessment of the extent of any natural resource injuries is ongoing. Cleanup and restoration related to the site provides tremendous potential for benefits to fish, wildlife and the public.
For further information, contact Reyhan.Mehran@noaa.gov.