National Research Council Releases NOAA-Sponsored Report on Arctic Oil Spills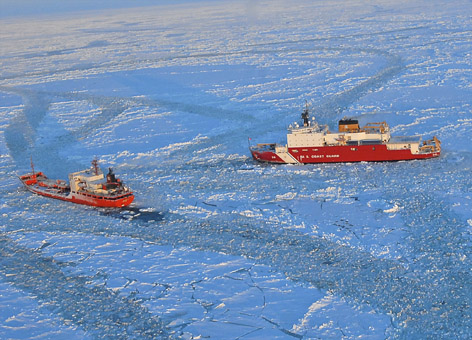 APRIL 23, 2014 -- Responding to a potential oil spill in the U.S. Arctic presents unique logistical, environmental, and cultural challenges unparalleled in any other U.S. water body. In our effort to seek solutions to these challenges and enhance our Arctic preparedness and response capabilities, NOAA co-sponsored a report, Responding to Oil Spills in the U.S. Arctic Marine Environment, directed and released by the National Research Council today. Several recommendations in the report are of interest to NOAA's Office of Response and Restoration (OR&R), including the need for:
Up-to-date high-resolution nautical charts and shoreline maps.
A real-time Arctic ocean-ice meteorological forecasting system.
A comprehensive, collaborative, long-term Arctic oil spill research program.
Regularly scheduled oil spill exercises to test and evaluate the flexible and scalable organizational structures needed for a highly reliable Arctic oil spill response.
A decision process such as the Net Environmental Benefit Analysis for selecting appropriate response options.
In addition, the report mentions NOAA's ongoing Arctic efforts including our Arctic Environmental Response Mapping Application (ERMA), our oil spill trajectory modeling, and our innovative data sharing efforts. Find out more about OR&R's efforts related to the Arctic region at response.restoration.noaa.gov/arctic. Download the full NRC report. This report dovetails with NOAA's 2014 Arctic Action Plan, released on April 21, which provides an integrated overview of NOAA's diverse Arctic programs and how these missions, products, and services support the goals set forth in the President's National Strategy for the Arctic Region [PDF]. In addition, the Government Accountability Office (GAO) released a report [PDF] in March of 2014, which examined U.S. actions related to developing and investing in Arctic maritime infrastructure. The report outlines key issues related to commercial activity in the U.S. Arctic over the next decade. Get a snapshot of the National Research Council report in this four minute video, featuring some of our office's scientific models and mapping tools: