Ready for a Vacation on the Coast? Thank NOAA for Helping Keep it Clean
MAY 9, 2013 -- Spending time at the beach is reported to be one of America's favorite vacation memories [PDF]. So, when our coasts become polluted, the effects can seem both traumatic and personal: damaged habitats; dirtied water; injured birds, fish, wildlife, and plants; and blemished places where we boat, fish, and play. But thanks to NOAA's Office of Response and Restoration, we help reverse these impacts—whether from an oil spill, toxic chemicals, or marine debris—through our scientific solutions for protecting and restoring our favorite natural places. To celebrate National Travel and Tourism Week (May 4-12), we have gathered a few examples of the places you can visit that our office is helping protect and restore.
San Juan, Puerto Rico
Sandy beaches, swaying palm trees, and turquoise waters—Puerto Rico is the quintessential tropical vacation destination. Besides surfing, snorkeling, and swimming at its more than 270 miles of beaches, this Caribbean island offers jungle adventures, resort relaxation, and Spanish colonial history. But on an island only 110 miles long and 40 miles wide, the ocean is never far away. On January 7, 1994, just before dawn, a barge the length of a football field plowed into the picturesque surf near San Juan, Puerto Rico. When it grounded, the Tank Barge Morris J. Berman damaged coral reefs and spilled 800,000 gallons of a thick, black fuel oil into the deep blue waters off Puerto Rico's Atlantic coast. After the grounding, the barge continued to leak, spilling more than 85,000 gallons of oily water as it was towed offshore and scuttled (intentionally sunk) 23 miles northeast of San Juan.
The San Miguel Natural Reserve is a mosaic of coastal habitats including near shore coral reefs, more than a mile of beachfront, intertidal areas, wetlands, coastal dry forests, and mangroves. It is home to 16 federally listed threatened and endangered species, including Leatherback and Hawksbill sea turtles. This huge parcel of land was acquired after the Tank Barge Berman grounding to protect the habitat from future land development. The goal is to eventually use this site for ecotourism opportunities. (NOAA)
About 169 miles of ocean and bay shorelines were affected by the spilled oil, disrupting beachgoers, boaters, and sportfishers for up to three months in some areas. The oil also crept onto the shoreline of several historic sites, including San Juan National Historic Site, a National Park and UNESCO World Heritage Site. And in the end, nearly 111,000 square feet of coral reef were damaged from the grounded barge and subsequent response measures.
NOAA's Office of Response and Restoration was involved in a variety of activities from the start: forecasting the oil's spread, performing aerial surveys of the spill, assessing impacted shorelines, and advising the Coast Guard on potential environmental impacts of sinking the leaking barge. Our involvement carried beyond spill cleanup and extended to evaluating and determining how the spill injured natural resources, which included people's use of them. To compensate the public for the spill's impacts, we helped implement a suite of projects focused on restoring damaged reefs, recreational beach use, and lost tourism at San Juan National Historic Site. To begin restoring the coral ecosystems, NOAA and our partners built the Condado Coral Reef Trail, comprised of three underwater educational trails adjacent to a public beach.
These underwater reef trails are in front of the public beach between the Dos Hermanos Bridge and the breakwater separating Condado Lagoon from the Atlantic Ocean. (San Juan Bay Estuary Partnership)
Along each trail, we placed ten pre-fabricated artificial cement reefs, intended to establish similar reef habitat to that damaged by the barge grounding. This project wrapped up in the fall of 2008 and provides an incredible first-hand opportunity to learn about coral reefs and restoring natural resources in Puerto Rico.
San Francisco, California
According to the San Francisco Travel Association, more than 16.5 million visitors traveled to San Francisco, Calif., in 2012. Known as the "City by the Bay," San Francisco is closely connected to its maritime heritage and marine resources. Fisherman's Wharf is a popular northern waterfront area home to the city's fleet of fishing boats, many of whose owners have been fishing there for three generations and bringing in the fresh seafood both locals and tourists savor. The Golden Gate Bridge, the city's most iconic bridge, links San Francisco Bay to the Pacific Ocean and its bustling maritime commerce. But on the typically foggy morning of November 7, 2007, the 900-foot cargo ship Cosco Busan slammed against the San Francisco-Oakland Bay Bridge and caused one of the largest oil spills in the bay's history. Scraping a 100-foot-long gash into the vessel's side, the crash released 53,000 gallons of a thick fuel oil, which quickly dispersed into the surrounding waters and onto sensitive coastline both in the bay and along the outer coast. Similar to our efforts after the barge grounding in Puerto Rico, NOAA's Office of Response and Restoration provided forecasts of the oil's path, aerial oil surveys, oiled shoreline assessment, and other scientific support for the spill response.
Point Bonita is in the foreground, looking across sheens of oil (lighter colored) from the Cosco Busan spill and eastward to Golden Gate Bridge and San Francisco Bay. (NOAA)
NOAA and our partners determined that, as a result, the incident oiled more than 3,300 acres of shoreline habitat, killed an estimated 6,849 birds and thousands of herring, and lost an estimated 1,079,900 possible recreational days for individuals. In addition, it temporarily closed a dozen urban beaches [PDF], and even shoreline along Alcatraz Island, a National Park and home to the infamous prison, suffered heavy oiling after the spill. More than $30 million was awarded from the company responsible to restore injured birds, fish, eelgrass vegetation, habitat, and lost outdoor recreation.
The bulk of these funds (tentatively $18.8 million) is allocated for a slew of improvements benefiting Bay Area recreational activities, such as picnicking, hiking, surfing, kiteboarding, fishing, and boating. These projects will take place in the Golden Gate National Recreation Area, Point Reyes National Seashore, and other areas of the East Bay and San Mateo and Marin County. They range from improving beach and fishing access and enhancing trails and shorelines to repairing waterfront park infrastructure and supporting lifeguard and educational programs. Restoration is expected to begin in the summer of 2013, helping turn back the harmful effects of this oil spill on the City by the Bay.
Olympic Coast, Washington
Visitors flock each year to Washington's breathtaking Olympic Peninsula to go hiking, camping, kayaking, and harvesting clams and oysters (just for starters). Driving the 350 miles along the Pacific Coast Scenic Byway, you can access an impressive amount of diversity along this state's coast. From foggy sea stacks poking out of the Pacific Ocean to giant red cedars standing sentinel in old-growth forests to tide pools populated with vibrant orange and purple starfish, this coast abounds with natural wonders.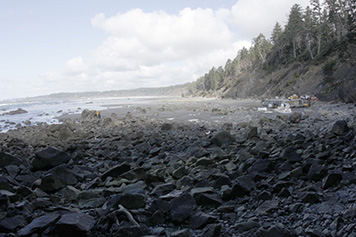 A landscape view of the rugged Washington coast, with cleanup workers dismantling the dock and removing plastic foam to the right. Photo: March 18, 2013 (National Park Service/John Gussman)
In December of 2012, however, a remote portion of the Olympic Coast received an unusual "visitor": a 185 ton, 65-foot floating dock. Swept away from the Port of Misawa during Japan's 2011 tsunami, it ended up beached within NOAA's Olympic Coast National Marine Sanctuary and a designated wilderness portion of Olympic National Park. The dock was built out of plastic foam housed in steel-reinforced concrete, which had been damaged as changing tides and waves continued to shift the dock's placement in the surf. A threat to the environment, visitors, and wildlife, its foam was escaping to the surrounding beach and waters, where it could have been eaten by the coast's whales, seals, birds, and fish. According to the Washington Department of Ecology website, "the intertidal area of the Olympic Coast is home to the most diverse ecosystem of marine invertebrates and seaweeds on the west coast of North America ... Leaving the dock in place could [have] result[ed] in the release of over 200 cubic yards of foam into federally protected waters and wilderness coast."
Fortunately, in March 2013, the National Park Service and NOAA worked with a local salvage company to dismantle and remove this hazard to the coast, using both federal money and a generous donation from Japan to fund the project and ensuring the Olympic Coast's visitors can enjoy its healthy habitats for years to come. To learn more about NOAA's work protecting the coastal places we love to visit, go to response.restoration.noaa.gov.