Back to top
NOAA Presents Mapping Tools at Workshop with Coast Guard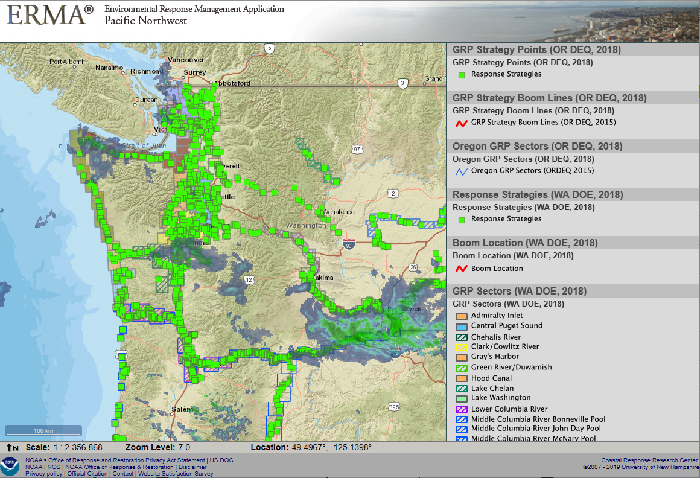 This workshop brings together spill response experts from across disciplines and organizations including regional non-governmental organizations, citizen-based groups, and Canada. Dr. Nancy Kinner, co-director of the Coastal Response Research Center (CRRC) at the University of New Hampshire, gave two presentations on the first day focused on non-floating oils and dispersants.
On the second day, Ben Shorr, a physical scientist from the OR&R Assessment and Restoration Spatial Data Branch and co-director of CRRC presented on the utility and need for coordinated data management in spill response and damage assessment, and in particular how the Pacific Northwest Environmental Response Management Application (ERMA) supports planning, spill response and Natural Resource Damage Assessment (NRDA) efforts in the Northwest region.
Highlights included examples of ERMA displaying Geographic Response Plans developed by Washington's Department of Ecology, NOAA's Environmental Sensitivity Indexes, and several examples of ERMA used as a Common Operational Picture for active response, NRDA, and drill efforts.
Shorr also presented on the DIVER application and its utility for managing structured data (such as spreadsheets and databases) and unstructured data (including field forms, chain of custody, photographs).
Dylan Righi, representing OR&R''s Emergency Response Division, presented on the GNOME suite of tools (General NOAA Operational Modeling Environment) for oil spill trajectory and fate modeling, and uses for marine debris trajectory. Advances that Righi covered include the WebGnome application (beta), and the availability of 3-dimensional modeling.
This workshop was an excellent opportunity for NOAA experts to collaborate with partners across disciplines, and receive valuable feedback on our tools.
For more information, contact Ben.Shorr@noaa.gov.