Back to top
NOAA Recognized by Tri-State Bird Rescue and Rehabilitation, Inc. as Outstanding Wildlife Leader
NOVEMBER 16, 2018 — On November 9, Tri-State Rescue and Rehabilitation, Inc. presented an award to NOAA at their annual "Fly Me to the Loon: Night to Benefit the Birds" fundraising event.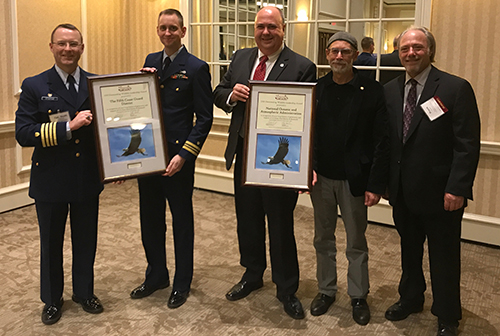 The award was received by OR&R's Emergency Response Division at an event held at the Chase Center on the Riverfront in Wilmington, Delaware.
The mission of Tri-State Bird Rescue & Research is to achieve excellence in the rehabilitation of injured, orphaned, and oiled native wild birds, with the goal of returning healthy birds to their natural environment. They do this through compassionate care, humane research, and education.
At this year's event, Tri-State selected two winners for the Outstanding Wildlife Leadership Award, NOAA and the Fifth Coast Guard District to honor the long-standing partnership between our organizations for response and readiness. Scott Lundgren, Chief, Emergency Response Division, accepted the award on behalf of NOAA. Captain Scott Anderson, Commander of Coast Guard Sector Delaware Bay, accepted the Coast Guard award.
In introducing the NOAA recognition, Ms. Michelle Knapp, Tri-State's Oil Programs Preparedness Manager, indicated:
"NOAA has been a long-standing supporter of Tri-State. In my short time with Tri-State, I have seen members of NOAA go above and beyond to share our mission and to advocate for our organization and for wildlife. They have invited and trained our staff in oil-spill-related, multi-day trainings across the Mid-Atlantic. NOAA is a critical environmental resource during a response, providing guidance when response operations may impact sensitive environments or wildlife. Recently, they played a key role as part of the planning committee and steering committee in the Effects of Oil on Wildlife Conference and gave multiple presentations at the conference, including Pinniped and Cetacean Response and Natural Resource Damage Assessment Guidelines for Sea Turtles."
In accepting the recognition, Scott recognized how strong the Tri-State and NOAA partnerships between the team members of both organizations across the response through restoration continuum nationwide, and how his acceptance was on behalf of this range of NOAA programs and people nationwide. He relayed the interesting fact that the formation of Tri-State and NOAA's Emergency Response Division were motivated by major spills in the northeast less than a week apart in 1976, from the tankers Olympic Games and Argo Merchant, respectively.  The strong organizations and partnerships that endure today provide a strong memorial legacy for Tri-State's founder Lynne Frink, and the founding Emergency Response Division leader John Robinson.
For additional information, contact Ed.Levine@noaa.gov or Frank.Csulak@noaa.gov.