Back to top
OR&R Drift Card Studies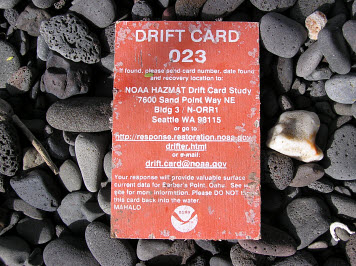 Over the years, NOAA's Office of Response and Restoration (OR&R) and other NOAA offices have used drift cards--originally plastic but now thin, biodegradable pieces of wood, colored with bright non-toxic paint--to learn more about the direction of ocean currents in a particular region. On the cards are instructions asking the finder to report the date and location found.
Drift cards are often released as part of an oil spill response exercise or drill. Our goal in releasing the cards is to gather information about the possible drift of an oil spill. Drift cards can also indicate where other things, such as stricken fishing boats, marine debris, plankton, or even sewage, might drift.
Drift card studies have a number of benefits to us. They are inexpensive, allow us to do a small study over a broad range of environmental conditions and over a fairly long period of time, and give us the advantage of volunteer assistants!
On a few occasions in the past, we have released drift cards as part of an actual spill response. For example, the predecessor to OR&R released drift cards during the response to the December 1976 grounding of the M/V Argo Merchant near Nantucket Island, Mass. Released from Nantucket Shoals, several of these drift cards have been found over the years in Ireland and France. Drift cards were also released as part of the response to the June 1979 Ixtoc 1 oil well blowout in the Bay of Campache, 600 miles south of Texas in the Gulf of Mexico. These cards were released between July and August, 1979.
From 2002 to 2004, OR&R scientists conducted an exploratory study to learn more about the direction of ocean currents off Oahu, Hawaii. The purpose of the study was twofold: to find a trend in where floating pollutants might go under different environmental conditions, if released from the south shores of Oahu, and to give us an idea of where we should direct our efforts in future studies.

About once a month, volunteers from the oil spill cooperative, Clean Islands Council, released a batch of 100 cards from Barber's Point, near Honolulu. We also released several sets of special cards during Kona wind events. These events, with winds from the south and southwest, usually occur several times during the winter months in Hawaii and have the potential to carry pollutants to the Waikiki and Diamond Head areas.
Safe Sanctuaries (Florida)
In 2005, a drift card release was one component of the pollution response drill, Safe Sanctuaries 2005 [PDF, 283 KB]. We designed the study to model floating pollutants in the Florida Keys National Marine Sanctuary, where the drill took place. In this exercise, OR&R and its co-lead, the National Marine Sanctuary Program, worked closely with partners in NOAA, the U.S. Coast Guard, and Florida State Department of Environmental Protection to exercise their emergency response capabilities and to provide training. (You can learn more about this event in the video, Safe Sanctuaries 2005: Emergency Response Drill. Drift cards are discussed at about 10:30.)
The following year during the Safe Seas 2006 oil spill–preparedness exercise, we simulated spilled pollutants by releasing hundreds of drift cards at the site of hypothetical spills west of San Francisco. The results of this study are available on an earlier, archived version of our website. Our drift card FAQ answers many of the questions that people have asked about drift card releases, and the U.S. Geological Survey has more information and photos from the drill.
More Information about Drift Card and Ocean Studies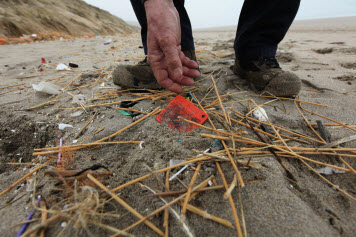 Drones and Drifters (and the Great Pumpkin Race): This video, produced by Luna Ocean Consulting Ltd., features proof of concept testing for the use of UAVs (aka drones) to track biodegradable drifters (aka pumpkins) and calculate their speed and direction. The primary objective is to develop a cost-effective and environmentally friendly method for mapping flow fields in tidal channels and rivers.
"Drifting in the Gulf" Video: This video depicts the trials and errors of designing the "perfect" drifter. Scientists with the Consortium for Advanced Research on Transport of Hydrocarbon in the Environment II (CARTHE II) spent two years testing different structures and materials to develop a practical, cost-efficient, and biodegradable drifter design. They partnered with the media brand Waterlust to create a video describing the researchers' experience designing, testing, and deploying the new GPS-equipped drifters during the Lagrangian Submesoscale Experiment (LASER), the largest ocean drifter experiment in history.
CARTHE: Read articles about a research team dedicated to predicting the fate of oil released into our environment, view photos from that work, and watch a selection of videos, all provided by the Corsortium for Advanced Research on Transport of Hydrocarbon in the Environment (CARTHE).
132 Year Old Message in a Bottle Found on West Australia Beach: The world's oldest known message in a bottle has been found half-buried at a West Australian beach nearly 132 years after it was tossed overboard in the Indian Ocean, 950km from the coast.
Oil Slick Alert Card Adrift Since 1976 Could Set Record: A retired English postman found on a Cornish beach a drift card released by NOAA in 1976 on Nantucket Island, Massachusetts, U.S.A. The drift cards were released in an effort to track the oil spilled from the tanker Argo Merchant, which ran aground, broke apart, and spilled its entire cargo of fuel oil. Having completed a 37-year, 3000-mile journey across the Atlantic, will this drift card make it into the Guinness Book of World Records?
Found: World's Oldest Message in a Bottle, Part of 1914 Citizen-Science Experiment: A Scottish fisherman has found the world's oldest message in a bottle--98 years old, cast into the ocean by a scientist at the Glasgow School of Navigation, who was studying the currents in the North Sea.
Bottle Cast from Ship in 1959 Discovered on Martha's Vineyard Shore: During a winter stroll along the shores of Martha's Vineyard in December, 2013, a beachcomber found a bottle cast adrift 54 years ago by a NOAA predecessor agency that set bottles adrift to study ocean currents.
After Floating Around in the Atlantic for 26 Years, NOAA Drift Card Comes Ashore on Irish Beach [PDF, 350 KB]: A small yellow plastic card released off the East Coast of the U.S. was found on a west Ireland beach in summer 2003, after spending 26 years floating in the North Atlantic Ocean.
Alaska boy finds plastic card 33 years after it was set afloat: A plastic drift card, released near Kodiak, Alaska, from a NOAA vessel in May 1979, was one of thousands NOAA sent into the waters around Alaska in the late 1970s and '80s. Almost exactly 33 years later, a 12-year-old boy spots the card among some drift logs on a beach at Sealion Cove.
40-year-old experiment still lingers in the North: An oil field supervisor on Alaska's North Slope, working at an annual cleanup day in July 2011, found a small, yellow plastic disc on a nearby creek bed. Scientists 30 years ago tossed the disc into the sea as part of a study on Arctic oil spills.
Interesting Find from the Cleanup - A Drift Card: A NOAA drift card, released in July 1979, was found on the Padre Island National Seashore south of Corpus Christi, Tex. in 2011 by a volunteer in the 16th Annual Billy Sandifer Big Shell Cleanup.