Back to top
NUCOS: Unit Converter for Spill Responders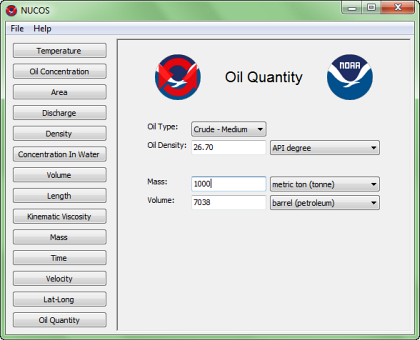 The NOAA Unit Converter for Oil Spills (NUCOS) is a simple desktop tool that converts basic units of velocity, mass, length, etc., but more specifically, converts units that are unique to oil spill response.
NUCOS includes some of the lesser known units used in managing oil and chemical spills. For example, it converts the units for oil volume, viscosity, and density from the conversion list of the Estimated Dispersant System Potential calculator (EDSP), a tool that helps spill responders assess dispersant application system performance.
NUCOS is compatible with Windows 7 and greater, and Mac OS-X versions 10.6 and greater. Installation of NUCOS includes a short Help file.
NUCOS was developed by NOAA's Office of Response and Restoration (OR&R). The current version, NUCOS 1.3, was posted on October 2, 2009.
To download NUCOS, click on the appropriate download link:
On a Windows PC: Double-click the "NUCOS_Win.exe" file icon, then follow the directions you'll see on your screen.
On a Mac: Double-click the disk image file, "NUCOS_Mac.dmg," to open it. You should now see the NUCOS file icon. (You can move the NUCOS file icon to wherever you would like NUCOS to reside. We suggest the "Applications" folder.)
In Windows: To start NUCOS, from the Start menu, under Programs, choose "NUCOS."
On a Mac: To start NUCOS, double-click the NUCOS file icon.