Back to top
OR&R Experts Invited to Discuss Best Practices for Cooperative Damage Assessments with Industry
OCTOBER 5, 2018 — On September 25, OR&R staff were asked to participate with industry and other stakeholders to share experiences and discuss opportunities for improving cooperation in conducting natural resource damage assessments.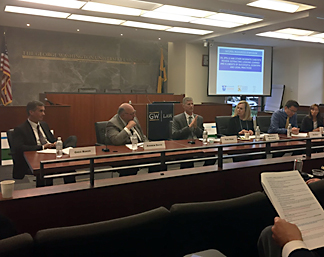 The group, including Ian Zelo, Greg Baker, and Tony Penn, co-chaired a panel and made presentations on successful case studies such as the 2007 Cosco Busan oil spill in California and the 2010 Adak oil spill in Alaska. 
The goal was to share experiences with successfully settled Oil Pollution Act cases to give advice on working with industry after a pollution release. Each presenter discussed an individual oil spill, lessons learned, and implications for improving broader practice. Emphasis was placed on approaches that prove effective for both responsible parties and the government.  Extracting "lessons learned" from these case studies allowed the panel to spot trends, and work towards more cooperative practices.
The panel was part of a broader two day-meeting called The Natural Resources Symposium. Other meeting topics addressed lessons learned from the Comprehensive Environmental Response, Compensation, and Liability Act (CERCLA) damage assessment cases, Natural Resource Damage Assessment (NRDA) case law history, and reform efforts within the Department of Interior and the EPA. The Natural Resources Symposium was hosted at George Washington University Law School and occurs every two to three years to discuss managing natural resource management. It covers risks, liabilities, and opportunities for public, private, and non-governmental organization experts to better manage natural resources. It was hosted by the Ad-hoc Industry Natural Resource Management Group, the Environmental Law Institute, and George Washington University.
For more information, contact Tony.Penn@noaa.gov.