Back to top
OR&R Meets with American Salvage Association
JUNE 3, 2019 — OR&R's Emergency Response Division Chief, Scott Lundgren, met with the leadership of the American Salvage Association (ASA) on May 23.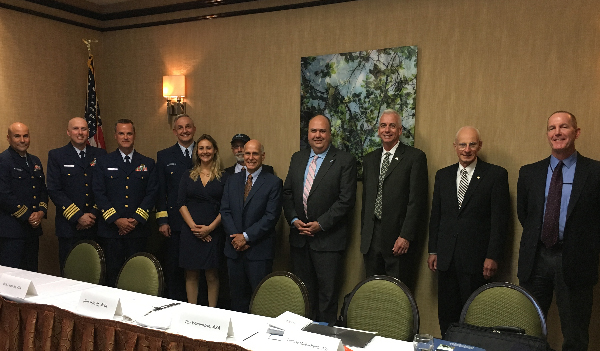 Ed Levine, OR&R's East and Gulf Region Response Operations Supervisor also participated.
This semi-annual information exchange allows agencies and this association representing the American marine salvage industry to share information on each other's activities to enhance environmental protection and response. The U.S. Coast Guard, Navy Supervisor of Salvage, and the Bureau of Safety and Environmental Enforcement also attended.
OR&R briefed on staff changes, new developments with the satellite detection of oil spills in U.S. waters (Marine Pollution Surveillance Reports) including direct linking and posting in ERMA, OR&R's Common Operating Picture Tool, and changes to staff assigned to the sunken wrecks topic (Remediation of Underwater Legacy Threats).
The OR&R involvement in removal operations on the sunken wreck COIMBRA off Long Island, New York, and in risk evaluation of another leaking wreck were shared.
Also briefed were OR&R's Disaster Preparedness Program training and exercise programs and post hurricane supplemental marine debris removal grants.
For further information, contact Scott.Lundgren@noaa.gov.