Back to top
OR&R Scientist Honored with a Blue Peter Award for Excellence in the Field of Environmental Remediation
JUNE 15, 2018 — OR&R's Diane Evers was provided with a Blue Peter Award for exceptional management and leadership skills in the field of environmental remediation at a gala held in Princeton, New Jersey on June 11.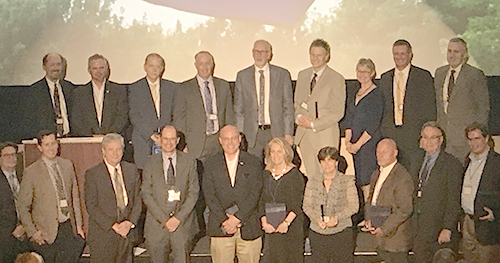 Originally a nautical flag, the Blue Peter was flown to signify a ship was outward bound.  Its implicit meaning was that the ship's crew shared a common fate; teamwork was paramount. Awardees are chosen by leading professionals within the industry to recognize project managers with outstanding leadership and teamwork skills. Diane was specifically honored for her longstanding work and expertise assisting the Dept. of Defense and other agencies in assessing underwater munitions since 2003 in Vieques Island and Culebra in Puerto Rico, and Ordnance Reef in Oahu, Hawaii.  The ceremony featured former New Jersey Governor and EPA Administrator Christine Todd Whitman.  
For additional information, contact Tom.Brosnan@noaa.gov.