Back to top
OR&R Supporting Abandoned Vessel Assessment and Pollution Response in North Carolina Following Hurricane Florence
SEPT. 21, 2018 — Last week NOAA's Office of Response and Restoration deployed personnel to North and South Carolina to provide NOAA scientific support to the U.S. Coast Guard following Hurricane Florence, which hit the coast last Thursday.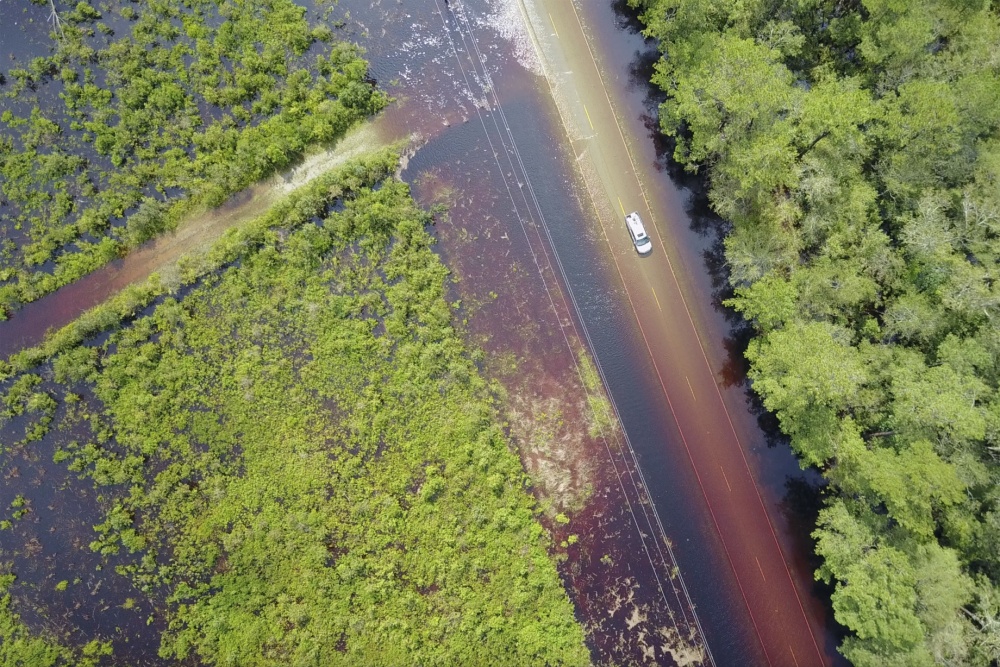 Hurricane Florence left a coastal disaster in its wake that continues to severely impact communities, ecosystems, and economies. The remnant catastrophic flooding in North and South Carolina continues to test responders as they assess coastal damage, clear debris and displaced vessels, address pollution, and reopen navigable waterways.
Both OR&R's Emergency Response Division and Assessment and Restoration Division have staff in North Carolina to support abandoned vessel assessment and pollution response. OR&R will assist the Coast Guard with ESF-10 (Environmental Support Function) to identify and remove stranded and sunken vessels from marshes and waterways.
To reduce the collateral environmental impacts of the salvage and wreck removal activities, OR&R responders are also refining best management practices based on work done and lessons learned during the 2017 hurricane responses in Puerto Rico, Florida, and the U.S. Virgin Islands and tailoring them to the habitats and resources at risk in North Carolina waters.
OR&R is using National Geodetic Survey imagery to identify pollution targets post-storm and is currently supporting two command posts. Imagery is processed and posted online within 12 hours, including flight and processing time, and may be viewed online via the NGS aerial imagery viewer. NOAA's aerial imagery captures storm damage to coastal areas and aids safe navigation. It is a cost-effective tool for determining the extent of flood damages and assessing damage to major ports and waterways, coastlines, infrastructure, and coastal communities.
Office for Coast Survey is completing its work to survey ports and navigable waterways for any obstructions and hazards. OR&R's Disaster Preparedness Program continues to provide situational awareness on NOAA's continued efforts to support these mission response activities.
"NOAA's Navigation Services Division conducts surveys and assessments in order to provide the Coast Guard with critical information to reconstitute and resume the flow of commercial operations vital to the North Carolina economy and national interests," said Frank Csulak, NOAA scientific support coordinator, in a U.S. Coast Guard press release.
The Coast Guard advises all mariners to exercise extreme caution when transiting due to possible shoaling, debris and aids to navigation that still may be off-station or unreliable. Mariners should report any hazards to navigation to the Coast Guard Sector North Carolina command center at 919-722-4884.
For more information about NOAA's Hurricane Florence response efforts, view the latest article "After landfall: 4 ways NOAA is helping your community recover from Florence."
Aerial view of North Topsail Beach, North Carolina, after Hurricane Florence. Sept. 18, 2018. Image credit: NOAA.