How NOAA Oil Spill Experts Got Involved With Chemical Spill Software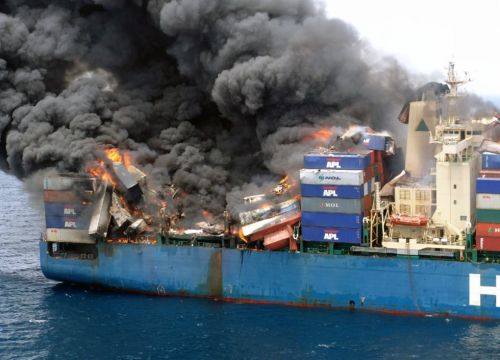 FEBRUARY 13, 2015 -- It was late February of 1979, and the Italian container ship Maria Costa [PDF] had sprung a leak.
Rough seas had damaged its hull and the ship now was heading to Chesapeake Bay for repairs. Water was flooding the Maria Costa's cargo holds.
This was a particular problem not because of its loads of carpets and tobacco, but because the vessel was also carrying 65 tons of pesticide.
Stored in thick brown paper bags, this unregulated insecticide was being released from the clay it was transported with into the waters now flooding the cargo holds.
Ethoprop, the major ingredient of this organophosphate insecticide, was not only poisonous to humans but also to marine life at very low concentrations (50 parts per billion in water).
Waters around Norfolk, Virginia, had recently suffered another pesticide spill affecting crabs and shrimp, and the leaking Maria Costa was denied entry to Chesapeake Bay because of the risk of polluting its waters again.
During the Maria Costa incident, two NOAA spill responders boarded the ship to take samples of the contaminated water and assess the environmental threat.
Even though this event predated the current organization of NOAA's Office of Response and Restoration, NOAA had been providing direct support to oil spills and marine accidents since showing up as hazardous materials (hazmat) researchers during the Argo Merchant oil spill in 1976.
Blood and Water
The NOAA scientists had blood samples taken before and after spending an hour and a half aboard the damaged vessel taking samples of their own. The results indicated that water in the ship's tanks had 130 parts per million of ethoprop and the two men's blood showed tell-tale signs of organophosphate poisoning.
After the resolution of that incident and an ensuing hospital visit by the two NOAA scientists, the head of the NOAA Hazardous Materials Response Program, John Robinson, realized that responding to releases of chemicals other than oil would take a very different kind of response. And that would take a different set of tools than currently existed.
From Book Stacks to Computer Code
Following the Maria Costa, Robinson got to work with the Seattle Fire Department's newly formed hazmat team, allowing NOAA to observe how local chemical incidents were managed. Then, he initiated four large-scale exercises around the nation to test how the scientific coordination of a federal response would integrate with local first responder activities during larger-scale chemical incidents.
It didn't take long to understand how important it was for first responders to have the right tools for applying science in a chemical response. During the first exercise, responders laid out several reference books on the hoods of cars in an attempt to assess the threat from the chemicals involved.
Researching and synthesizing complex information from multiple sources during a stressful situation proved to be the main challenge. Because the threat from chemical spills can evolve so much more rapidly than oil spills—a toxic cloud of chemical vapor can move and disappear within minutes—it was very clear that local efforts would always be front and center during these responses.
Meanwhile, NOAA scientists created a computer program employing a simple set of equations to predict how a toxic chemical gas would move and disperse and started examining how to synthesize chemical information from multiple sources into a resource first responders could trust and use quickly.
Learning from Tragedy
Then, in December of 1984, tragedy struck Bhopal, India, when a deadly chemical cloud released from a Union Carbide plant killed more than 2,000 people. This accidental release of methyl isocyanate, a toxic chemical used to produce pesticides, and its impact on the unprepared surrounding community led the U.S. government to examine how communities in the United States would have been prepared for such an accident.
By 1986, Congress, motivated by the Bhopal accident, passed the Emergency Planning and Community Right-to-Know Act (EPCRA). As a result, certain facilities dealing with hazardous chemicals must report these chemicals and any spills each year to the U.S. Environmental Protection Agency (EPA).
In the late 1970s and early 1980s, NOAA's hazmat team wrote the first version of the ALOHA chemical plume modeling program, now part of the CAMEO software suite for hazardous material response, for this Apple II+ computer. (NOAA)
Because NOAA had already started working with first responders to address the science of chemical spill response, EPA turned to NOAA as a partner in developing tools for first responders and community awareness. From those efforts, CAMEO was born. CAMEO, which stands for Computer-Aided Management of Emergency Operations, is a suite of software products for hazardous materials response and planning.
Getting the Right Information, Right Now
The goal was to consolidate chemical information customized for each community and be able to model potential scenarios. In addition, that information needed to be readily available to the public and to first responders.
In 1986, attempting to do this on a computer was a big deal. At that time, the Internet was in its infancy and not readily accessible. Computers were large desktop affairs, but Apple had just come out with a "portable" computer. NOAA's Robinson was convinced that with a computer on board first response vehicles, science-based decisions would become the norm for chemical preparedness and response. Today, responders can access that information from their smartphone.
NOAA and EPA still partner on the CAMEO program, which is used by tens of thousands of planners and responders around the world. Almost 30 years later, the program and technology have evolved—and continue to do so—but the vision and goal are the same: providing timely and critical science-based information and tools to people dealing with chemical accidents. Learn more about the CAMEO suite of chemical planning and response products.