Back to top
ALOHA
ALOHA® is the air hazard modeling program in the CAMEO® software suite developed jointly by NOAA and the Environmental Protection Agency (EPA), and it runs on both Windows and Mac computers. Download ALOHA from the EPA CAMEO site.
Based on your information about a chemical release, ALOHA's source strength models estimate how quickly the chemical will escape from a tank, puddle, or gas pipeline and form a hazardous gas cloud—and also how that release rate may change over time.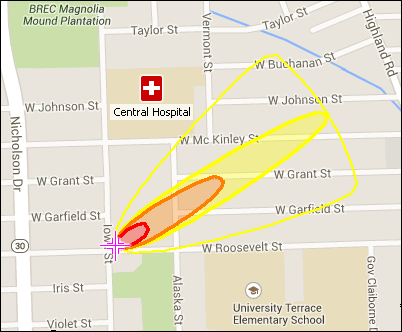 An ALOHA threat zone estimate displayed on a MARPLOT map. The red, orange, and yellow zones indicate areas where specific Level of Concern thresholds were exceeded.
ALOHA can then model how that hazardous gas cloud will travel downwind—including both neutrally buoyant and heavy gas dispersion. Additionally, if the chemical is flammable, ALOHA also models pool fires, BLEVEs, vapor cloud explosions, jet fires, and flammable gas clouds (where flash fires might occur).
ALOHA produces a threat zone estimate, which shows the area where a particular hazard (such as toxicity or thermal radiation) is predicted to exceed a user-specified Level of Concern (LOC) at some time after the release begins.
The threat zone estimates are show on a grid in ALOHA, and they can be plotted on maps in MARPLOT®, Esri's ArcMap (using MARPLOT to generate shapefiles), and Google Maps and Google Earth (using ALOHA's KML Export).
More Information about ALOHA
  Questions: Contact us with questions, comments, or suggestions about ALOHA.