Back to top
Chemical Aquatic Fate and Effects (CAFE) Database
The Chemical Aquatic Fate and Effects (CAFE) database is a software program you can use to estimate the fate and effects of thousands of chemicals, oils, and dispersants.
CAFE serves as a tool to help responders in their assessment of environmental impacts from chemical or oil spills into an aquatic environment.
Using CAFE, you can choose between four different spill scenarios: chemical, oil only, dispersant only, and dispersants mixed with oil.
Download CAFE for Windows or Mac.
Data in CAFE are presented in two modules, which can provide complementary information to responders:
Aquatic Fate module
Aquatic Effects (Toxicity) module
The Aquatic Fate module provides you with the following information about the pollutant:
Structure and physical properties (e.g., boiling point, water solubility, molecular weight)
Environmental fate (e.g., estimated Koc, biodegradation time, partitioning)
Analytical methods
In the Aquatic Effects module, you can navigate through a series of steps to produce a Species Sensitivity Distribution (SSD), a curve based on acute effects (LC50, EC50) for various exposure times (24, 48, 72, and 96 hours) to a specific pollutant. SSDs are probabilistic models that show the sensitivity of biological species to a chemical or oil.
Also included in CAFE are Short Exposure Risk Reports for a selected number of chemicals, and a User-Added section that allows you to add your own data to SSDs.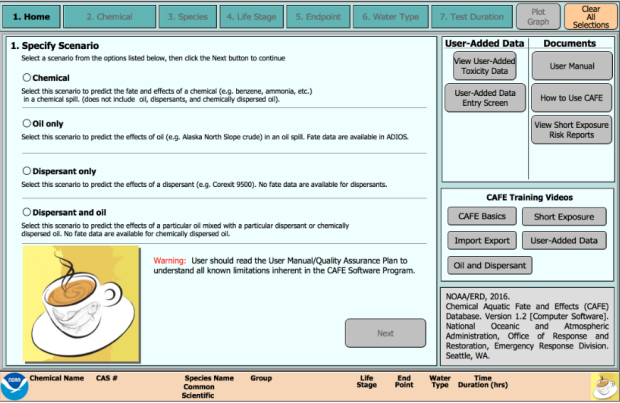 On the Home tab of CAFE, you can choose between four different spill scenarios: Chemical, Oil only, Dispersant only, and Dispersant and oil (mixed). You can also view Short Exposure Risk Reports, or add your own toxicity data in the User-Added Data section. The User Manual and "How To Use CAFE" document are also available on this screen.
More Information about CAFE
CAFE Fact Sheet [PDF, 410 KB]: Learn more about basic features of CAFE in this short fact sheet. CAFE was developed by NOAA's Office of Response and Restoration, in collaboration with Research Planning, Inc.
 
Questions: Contact us with your questions, comments, or suggestions for CAFE.