Back to top
FOSC's Guide to NOAA Scientific Support
This guidebook was written for oil and chemical spill responders and Federal On-Scene Coordinators (FOSCs) and provides a quick reference to the range of scientific support services available from NOAA OR&R through its Emergency Response Division (ERD).
The revised edition of this guidebook (version 3, June 2015) is available as portable document format (PDF) files, in the following formats: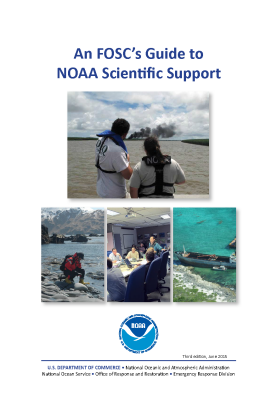 Click here for an electronic version [PDF, 3.9 MB] of "An FOSC's Guide to NOAA Scientific Support."
An electronic version [PDF, 3.9 MB], with links to other files, websites, and e-mail addresses. These links, mostly contained in the appendices, take the user directly to those references (Internet connection required). The purpose of their inclusion is to provide a single, instant reference to the many products and services OR&R's Emergency Response Division provides. To access the links more easily, you may want to download the PDF to your hard drive (right-click the link, then choose "Save Target As" or "Save Link As" from the pop-up menu).

This version can also be printed on 8.5" x 11" paper. It is the best format for those who need an accessible version.

A "booklet" version [PDF, 3.7 MB] that you can print double-sided, then fold and staple to create a 5.5" x 8.5" booklet.
Obtaining NOAA Scientific Support
NOAA scientific support should be requested by an FOSC by contacting the NOAA Scientific Support Coordinator (SSC) assigned to their Coast Guard District. Appendix 1 of the guidebook provides contact information for ERD SSCs; however, the most up-to-date contact information can be found on the OR&R Field Staff page.
More Information about NOAA Scientific Support