NOAA's Long-Term Monitoring Program in Prince William Sound, Alaska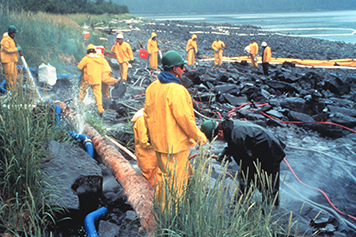 NOAA has been a part of the Exxon Valdez story from the very beginning. NOAA scientists were on-scene and supporting the U.S. Coast Guard on the first day and were a constant presence for the next three years.
Through a long-term monitoring program and related research projects, NOAA continues to study the aftermath of the spill in Prince William Sound, Alaska, so that we can improve the way we respond to oil spills.
To learn how Prince William Sound was recovering from the Exxon Valdez oil spill, teams of OR&R biologists, geologists, and chemists conducted a long-term monitoring study of intertidal shorelines from 1990 through 2000. We tried to answer questions about the spill, its effects, and what we have learned. For example:
This long-term monitoring program has been a unique opportunity to track the process and progress of ecological recovery and the effects of various response techniques after an oil spill.