Parts of the U.S. Government are closed. However, because the information this site provides is necessary to protect life and property, it will be updated and maintained during the Federal Government shutdown. For critical weather information, please visit
www.weather.gov
. To learn more, see
www.commerce.gov
.
NOAA's Office of Response and Restoration Fiscal Year 2013 Accomplishments Report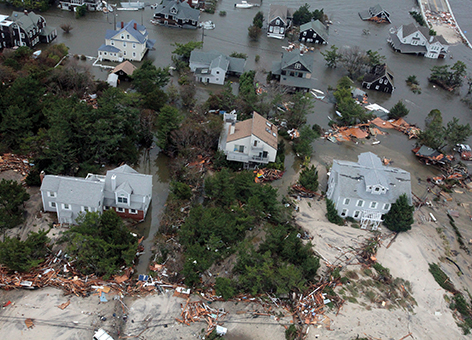 We live in a changing world where billion-dollar natural disasters such as Sandy threaten U.S. coasts, and warming in the Arctic brings increased traffic and opportunities, along with increased concern for protecting natural resources.
In light of these challenges, the people and products of NOAA's Office of Response and Restoration are helping minimize environmental damages and prepare coastal communities to better deal with the impacts of marine debris, oil spills, and hazardous waste pollution.
Our accomplishments of the past year speak to our dedication in providing world-class science and solutions for protecting and restoring the nation's resources from coastal environmental hazards.
Here are a few highlights from our efforts in fiscal year 2013:
60,000 samples. That's how many environmental samples NOAA teams have collected during damage assessment studies since the 2010 Deepwater Horizon oil spill.
138 incidents. That's the number of oil spills, chemical releases, and other threats that we responded to, ranging from the aftermath of Sandy along the Mid-Atlantic to the grounding of Shell's drilling rig Kulluk in the Gulf of Alaska.
70 feet. That's the length of the concrete-and-Styrofoam dock that we helped track, assess, and remove from Washington's Olympic Coast where it washed up after being lost in the 2011 Japanese tsunami.
1,825. That's the number of people we trained in oil spill response and planning.
$30 million. That's the amount generated for environmental restoration from legal settlements.
27 events. That's the number of training, educational, and response-related events, classes, and workshops hosted at our new Gulf of Mexico Disaster Response Center.
$1,916,512. That's the amount we awarded in grants and cooperative agreements for community-based marine debris prevention, removal, and research.
21 countries. That's the number of nations where our oil spill trajectory software, currently undergoing major enhancements, is being used.
1,140%. That's the increase in migrating herring able to access prime spawning grounds along Massachusetts' Acushnet River since NOAA helped install two fish passages in 2007.
Yet the full extent of these accomplishments would not be possible without the support of our partners. Whether we are restoring a contaminated waste site, addressing new challenges such as the increasing shipment of oil sands, or examining emerging problems like microplastics, our ability to find innovative solutions with a range of partners will remain our strength, now and as we look ahead.
I thank you for your interest in the program and look forward to our future,
Dave Westerholm
Director, NOAA's Office of Response and Restoration
Accomplishments by Division