Back to top
NOAA Gulf of Mexico Disaster Response Center Fiscal Year 2013 Accomplishments
The NOAA Gulf of Mexico Disaster Response Center (DRC), the newest addition to the Office of Response and Restoration, brings together NOAA-wide resources to improve preparedness, planning, and response capacity for natural and manmade disasters along the Gulf Coast. Located in Mobile, Ala., the center is focused on the five states bordering the Gulf of Mexico.
The facility is designed to survive up to Category 5 hurricane winds, contains a Force-5 tornado shelter, and has backup power systems to continue operations in the midst of severe weather. Intended to serve as a safe and ready command center during major disaster responses in the Gulf, the DRC also offers facilities for drills, trainings, workshops, and planning activities.
NOAA Dedicates the Gulf of Mexico Disaster Response Center
On October 15, 2012, NOAA leadership joined Alabama Senator Richard Shelby, as well as federal, state, and local emergency responders at the formal dedication of the Gulf of Mexico Disaster Response Center. The event began with a flyover by NOAA's newest NOAA68 aircraft, N68RF, a high-performance twin-engine aircraft. For the past several years, these aircraft have been used to support NOAA's emergency response missions, such as post-hurricane assessments.
After the flyover and opening remarks, the building dedication continued with an open house showcasing NOAA and U.S. Coast Guard response capabilities, assets, and expertise. NOAA was represented well, with staff from the National Weather Service to the Center for Operational Oceanographic Products and Services (CO-OPS) on hand to explain disaster preparation, response, and recovery products and services.
While the building was dedicated in October 2012, the DRC continues to expand its services and capabilities. For example, a hardened vessel-storage facility will soon be finished, which will allow navigation response crafts and their teams to be safely positioned to conduct response activities during a disaster. The DRC is a unique facility which allows NOAA to consolidate several programs in the Gulf region, streamlining response to all-hazard emergencies.
At the end of fiscal year 2013, experts in oil and chemical spill response, environmental damage assessment, habitat conservation and restoration planning, marine debris, and navigation management all called the DRC their official base of operations.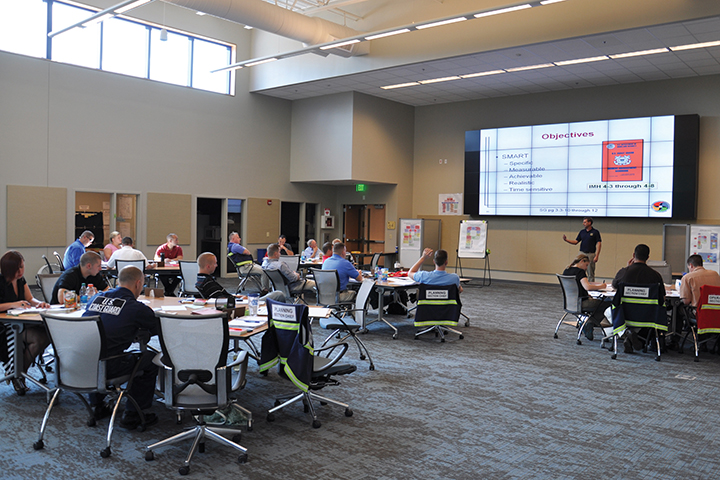 In fiscal year 2013, the NOAA Disaster Response Center hosted a total of 27 trainings, classes, and workshops, which were run by agencies including the U.S. Coast Guard Gulf Strike Team and Mobile County Emergency Management Agency. (NOAA)
Emergency Response Training for the 21st Century
Since opening in 2012, the DRC has been striving to become a central hub for coordination and training of emergency responders throughout the Gulf of Mexico. Although the DRC plays a role in all phases of emergency management, preparedness is a primary focus. Core business functions of the DRC are providing regional coordination for NOAA emergency preparedness, response, and recovery operations and improving regional readiness and training curricula for NOAA personnel and key partners.
The DRC works closely with local, state, and federal partners to prepare for all-hazard events. A few examples of the trainings hosted there in fiscal year 2013 emphasize its focus on critical preparedness activities:
The Federal Emergency Management Agency's (FEMA) Training for Volunteers
HURRIPLAN for Hurricane Resilient Community Planning and Building Design
HAZWOPER (Hazardous Waste Operations and Emergency Response)
ICS 300: Intermediate Incident Command System (ICS) for Expanding Incidents
Training and simulations help prepare responders to manage real-life incidents effectively. Unfortunately, however, budget limitations due to sequestration impacted training events planned for 2013. To enhance both training and operations management, the DRC aims to create a sophisticated and flexible training environment connected to multiple locations through video conferencing technology, which included installation of a 24-screen video wall.
In the near future, an advanced video camera system will be added. These features will allow remote participants to interact with on-site trainings even if they are unable to travel to the facility in person. This capability is intended to help overcome future challenges for budget-constrained agencies.
Better Preparing Estuarine Reserves Against Threats in the Gulf of Mexico
With a recent history that includes Hurricanes Katrina, Rita, and Ike, as well as the Deepwater Horizon oil spill, Gulf of Mexico coastal communities clearly face risks from both natural and manmade disasters. Sensitive habitats and recreational areas located within the coastal zone are particularly vulnerable to a wide range of threats.
Estuarine reserves (biologically rich and federally protected areas where rivers connect directly to the ocean) are threatened on multiple fronts by storm surge, oil and chemical spills, forest fires, and tsunamis. As a joint initiative with NOAA's National Estuarine Research Reserve System (NERRS), the DRC funded a multi-year preparedness and planning project with the NOAA Office of Ocean and Coastal Resource Management and Mississippi's Grand Bay NERR.
Led by Grand Bay NERR in Moss Point, Miss., the project involved all five NERRs in the Gulf of Mexico from Texas to Florida. Each estuarine reserve followed the same workshop and planning process to create site-specific plans and to define appropriate actions during emergency and disaster situations.
Each reserve's disaster response planning process included collaborating with local, state, and federal emergency managers. This served to familiarize responders with the capabilities of individual reserves that may be useful during a hazardous event, such as maps and data, sampling and testing capabilities, detailed knowledge of the reserve and its natural resources, and access to boats, personnel, and volunteers. Deemed a success, the process and materials from this project are now being applied to other coastal regions, such as the Northeast for disaster planning in the wake of Post Tropical Cyclone Sandy.
Yet, the work to build a stronger, more resilient response community does not end with planning; next up is testing these plans in joint drills and training exercises.