Back to top
How Do You Keep Killer Whales Away From an Oil Spill?
This is a guest post by Lynne Barre of NOAA Fisheries.
FEBRUARY 8, 2016 -- I sleep better at night knowing that we have a plan in place to keep endangered Southern Resident killer whales away from an oil spill.
Preventing oil spills is key, but since killer whales, also known as orcas, spend much of their time in the busy waters around Seattle, the San Juan Islands, and Vancouver, British Columbia, there is always a chance a spill could happen.
The Southern Residents are a small and social population of killer whales, so an oil spill could have major impacts on the entire population if they were in the wrong place at the wrong time.
We've learned from past experience with the 1989 Exxon Valdez oil spill that killer whales and other marine mammals don't avoid oiled areas on their own and exposure to oil likely can affect their populations.
New information on impacts from the 2010 Deepwater Horizon oil spill on bottlenose dolphins (a close relative of killer whales) gives us a better idea of how oil exposure can affect the health and reproduction of marine mammals.
Oil spills are a significant threat to the Southern Resident population, which totals less than 90 animals, and the 2008 recovery plan [PDF] calls for a response plan to protect them.
We brought experts together in 2007 to help us identify tools and techniques to deter killer whales from oil and develop a response plan so that we'd be prepared in case a major oil spill does happen.
The Sound of Readiness
Killer whales are acoustic animals. They use sound to communicate with each other and find food through echolocation, a type of biosonar. Because sound is so important, using loud or annoying sounds is one way that we can try to keep the whales away from an area contaminated with oil.
We brainstormed a variety of ideas based on experience with killer whales and other animals and evaluated a long list of ideas, including sounds, as well as more experimental approaches, such as underwater lights, air bubble curtains, and hoses.
After receiving lots of input and carefully evaluating each option, we developed an oil spill response plan for killer whales that includes three main techniques to deploy quickly if the whales are headed straight toward a spill. Helicopter hazing, banging pipes (oikomi pipes), and underwater firecrackers are on the short list of options.
Here's a little more about each approach:
Helicopters are often available to do surveillance of oil and look for animals when a spill occurs. By moving at certain altitudes toward the whales, a helicopter creates sound and disturbs the water's surface, which can motivate or "haze" whales to move away from oiled areas.

Banging pipes, called oikomi pipes, are metal pipes about eight feet long which are lowered into the water and struck with a hammer to make a loud noise. These pipes have been used to drive or herd marine mammals. For killer whales, pipes were successfully used to help move several whales that were trapped in a freshwater lake in Alaska.

Underwater firecrackers can also be used to deter whales. These small explosives are called "seal bombs" because they were developed and can be used to keep seals and sea lions away [PDF] from fishing gear. These small charges were used in the 1960s and 1970s to help capture killer whales for public display in aquaria. Now we are using historical knowledge of the whales' behavior during those captures to support conservation of the whales.
In addition, our plan includes strict safety instructions about how close to get and how to implement these deterrents in order to prevent injury of oil spill responders and the whales. In the case of an actual spill, the wildlife branch within the Incident Command (the official response team dealing with the spill, usually led by the Coast Guard) would direct qualified responders to implement the different techniques based on specific information about the oil and whales.
Planning in Practice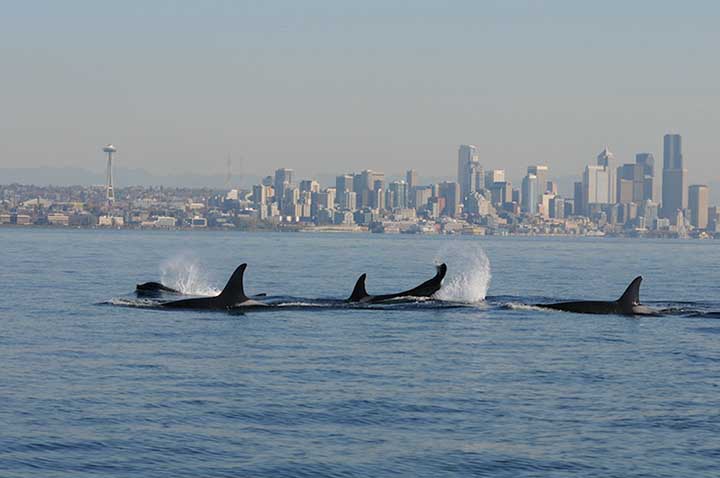 The Southern Resident population of killer whales is an iconic species in the Pacific Northwest, spending several months during summer and fall in Washington's San Juan Islands and Puget Sound where they feed primarily on salmon. This population was declared endangered in 2005 and today totals less than 90 animals. NOAA's plan for keeping these acoustic animals away from oil spills involves using sound as a deterrent. (NOAA)
After incorporating the killer whale response plan into our overall Northwest Area Contingency Plan for oil spills, I felt better but knew we still had some work to do.
Since finalizing the plan in 2009, we've been focused on securing equipment, learning more about the techniques, and practicing them during oil spill drills. Working with the U.S. Coast Guard and local hydrophone networks (which record underwater sound), we've flown helicopters over underwater microphones to record sound levels at different distances and altitudes.
With our partners at the Washington Department of Fish and Wildlife and the Island Oil Spill Association, we built several sets of banging pipes and have them strategically staged around Puget Sound. In 2013 we conducted a drill with our partners and several researchers to test banging pipes in the San Juan Islands. It takes practice to line up several small boats, coordinate the movement of the boats, and synchronize banging a set of the pipes to create a continuous wall of sound that will discourage whales from getting close to oil. We learned a few critical lessons to update our implementation plans and to incorporate into plans for future drills.
A large oil spill in Southern Resident killer whale habitat would be a nightmare. I'm so glad we have partners focused on preventing and preparing for oil spills, and it is good to know we have a plan to keep an oil spill from becoming a catastrophe for endangered killer whales. That knowledge helps me rest easier and focus on good news like the boom in killer whale calves born to mothers in Washington's Puget Sound.
You can find more information on our killer whale response plan and our recovery program for Southern Resident killer whales.
Lynne Barre is a Branch Chief for the Protected Resources Division of NOAA Fisheries West Coast Region. She is the Recovery Coordinator for Southern Resident killer whales and works on marine mammal and endangered species conservation and recovery.